The tattoo reflects my life journey; no matter what paths I have taken, or what people have come and gone...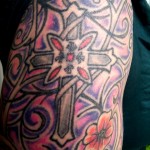 Some Christians might believe that having tattoos goes against the Bible.
Now, obviously as a tattooed Christian, Im bound to say I dont agree. Dont get me wrong; Im not into tattoos just for the sake of it, and I certainly dont think its always OK for anyone to get a tattoo, Christian or otherwise. There are some very sound reasons not to have a tattoo: some biblical, some just common sense. But the biblical ones are not the usually-raised objections from Leviticus. For my money,
offers a pretty balanced view.
So (debate cunningly side-stepped) why have I got tattoos and what are they all about?
I got my first tattoo age 35. Not exactly teenage rebellion, but I suppose in my own way it was a bit of a kick-back as I was going through a divorce at the time. I gather many women in similar circumstances have just gone out and pampered themselves with a new hairdo or dress. Not really my style.
And so my tattoo journey began. I love my tattoos for what they represent to me. They are all carefully thought out and individually designed to be artistic in their own right, but also theyre intentionally endowed with meaning to reflect my life journey, my values and my faith.
Ill tell you about three of them.
First up, the tattoo on my leg is based on the scripture verse 1 Corinthians 13:13
And now these three remain: faith, hope and love. But the greatest of these is love.
The design uses the symbols of the cross, anchor and heart to represent faith, hope and love. For example, on the back of my calf is a large heart with a cross in the centre and two anchors; the words Faith Hope Love are in script in the centre. I just love the way the tattoo artists played with the imagery and symbolism to create something so completely unique for me.
Secondly, on my right arm and shoulder is a large piece extending to my neck, chest, shoulder and back. That totalled about 21 hours in the chair over six or seven sessions! All my tattoos are full of colour, especially this one, with its burst of flowers, tendrils and leaves weaved and curled around each other.
At first glance people see just a really pretty, colourful tattoo and probably for that reason its the one I get most remarks about. But at its heart is a jewelled cross, influenced by the Byzantine cross designs which I think are both ancient and beautiful. The tattoo reflects my life journey; no matter what paths I have taken, or what people have come and gone in my life, central to it all is the cross, where I find the love and grace of Jesus.
Finally, my most recent tattoo is simply a verse from the bible: 2 Samuel 22:2
The Lord is my rock and my fortress.
This tattoo is a reminder of the power of God to rescue. After my divorce I drifted away from God big time and got into a complete mess but even when I flaked off, He was unshakeable, immovable; He hung on tight to me and endured with me through all the storms I faced. He is my Fortress too; His protection surrounds me, and I have faith that no matter what my past has been like, my future is safe and secure in Him.
About the author
Janey is Strategy & Mission Officer for the Diocese of Bristol.