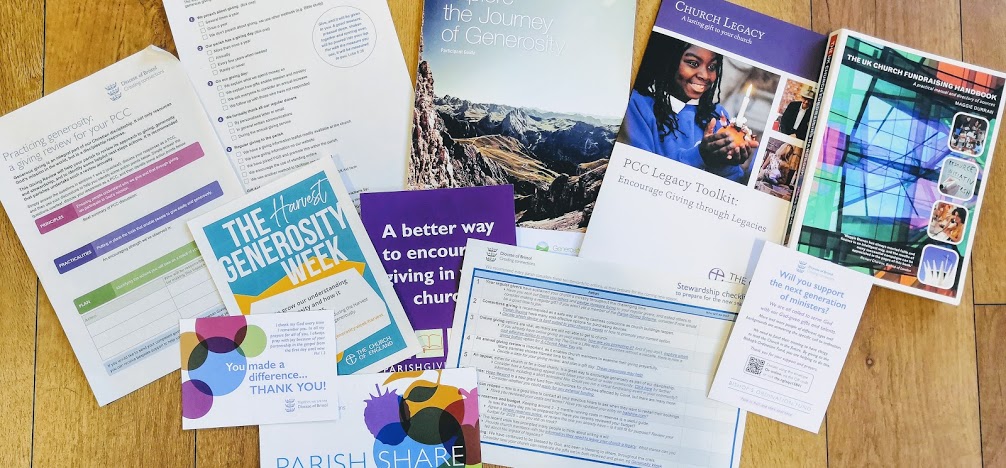 There are many fantastic resources available to help you in your stewardship work. We recommend that your PCC undertakes a Giving Review annually and you'll find one below. We also recommend that churches thank givers for their generosity and encourage the congregation to review their giving every year, and run a broader stewardship campaign at least every three years. There are various stewardship campaigns to choose from.
The National Church produces resources that will help you too, including resources to help you run a "Generosity Week".
Do you have materials you could share? We would like to gather more resources for the "Teaching on giving" section - so please send us any materials you have produced.
Do you have a fundraising appeal coming up? Read our Top tips on how to use your Church Fundraising Handbook - every church in our diocese has been given their own copy.
Is there a resource missing that you would find useful? Let us know & we'll add it to this page.
Giving Review
This Giving Review is designed to help your PCC consider what actions will be most useful with regards to Giving and Stewardship. There is a set of simple discussion questions to review the principles of giving in your church, and simple questionnaire to review the practicalities. Once you have done these, you will be in a great position to decide your priorities.
or a word document version is available here.
Generosity Week Resources
The National Church Giving team produce an annual set of resources for Generosity Week which can be used at any time, although there is accompanying social media around Harvest (Sept/Oct) time. You'll find sermon outlines, bible study guides, ideas for community engagement and lots more.
Generosity Fika (or 'Journey of Generosity')
A Fika is a Swedish word, broadly translated as 'coffee, cake and a chat'. Similar to the Journey of Generosity below, these sessions are designed as informal, small group discussions to explore generosity through the lens of Christian discipleship.
Through short films, reflections and discussion we can be inspired and encouraged to live more generous lives.
You can download discussion guides, a facilitators guide, and a reflections booklet. We also have a limited number of physical copies if anyone would like them.
Contact your Stewardship team to find out more and to get access to the films.
Giving in Grace & Rural Giving Programmes
Giving in Grace is a tried and tested stewardship programme, recently updated and refreshed, with a proven track record in significantly increasing giving to the local church and in sustaining that increase. The materials take you through a simple but robust planning process, combining core elements of the programme with optional resources customised to the specific needs of your church.
Find out more about Giving in Grace
Unsure where to start? Take a look at this comprehensive checklist that walks you through the process of planning a stewardship campaign.
The Simple Giving Programme is a similar resource, but aimed at smaller & rural churches. It has a particular focus on engaging the wider community in your town or village, and encouraging those on the 'fringe' to support the work of your church.
Journey of Generosity
The Journey of Generosity is a day-long retreat for planned givers to take the next step and explore generosity as part of their discipleship.
The programme resources churches who already teach stewardship regularly, but would benefit from more deeply exploring biblical generosity and living 'the life that is truly life' (1 Tim 6:19).
The retreat can be facilitated by individual churches or by the Diocesan stewardship team.
Find out more: www.parishresources.org.uk/journey-of-generosity
Teaching on Giving and service resources
There are some excellent teaching resources for clergy on the GivingTraining.org site, including three short 15-minute videos by Canon Raymond Adams that give very practical pointers on encouraging generosity in your local church. You just need to create a free login to access these videos and all the other resources on the site.
The National Church have now collected together a number of resources on building a generous church - this is well worth exploring.
The Good Giving Guide is a teaching resource developed by Bishop Mike (previously Bishop of Bristol) to help churches face the resource challenge of modern ministry. The material aims to assist churches fund their local vision. You can download sermon notes here:
The Good Giving Guide Sermon notes
The Giving for Life website offers further accompanying talks and material
The Diocese of Gloucester have said all are welcome to make use of their Giving Toolbox resources.
The Diocese of York have also got some excellent liturgical resources that they would be glad for all to use.
Do you have other sermons/presentations on giving that you would be happy to share? Please send them to us!
Giving resources for Children and Youth