We rejoice in God's call on younger people to serve him in many different ways, in the church and in the world. Often younger people are asking what God is wanting them to do with their lives. God's call might be to serve him in many different ways, including licensed or ordained ministry in the Church of England. So are there other young people like me in ministry?
Yes - take a look below at the stories of young people who have joyfully responded to God's call on their lives in different ways.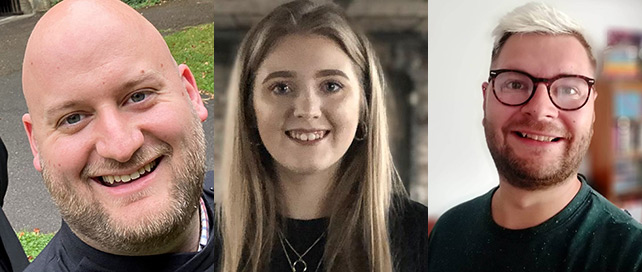 Josh Bradshaw's story
Although I had been around amazing faith my whole life, I only came to a truly surrendered faith in Jesus as a late-teen when I was on my way to University to study Law. My initial plan had been law because I found it interesting and the lawyers I knew seemed to live the high life I wanted, yet as Jesus began to transform my heart it was God's desire for justice and His bias towards the poor and oppressed that spurred me towards law. More
Emily Swinerd's story
I had a 'call' to ministry from a young age, at 15 I started to feel that church leadership was what I was going to do. I can't really explain how I knew or felt it I just couldn't deny it. More
Sam Sheppard's story
I had my first meeting with the DDO when I was 18. Whilst I always had the support of my priest and my amazing church everybody kind of knew it was a long shot. I was young, too young I was told quite often. I'm from a working class family. I wasn't well spoken or well educated, I had no prospects of going to university and perhaps my biggest challenge: I'm not churchy enough. More
Megan Clews's story
From about the age of twelve, I felt a strong sense God would lead me into 'something', but I never thought it would involve ordination! More
Becky Meilton's story
I was asked if I wanted to volunteer with the youth work in the church. I reluctantly agreed but very quickly discovered I loved youth work! I loved seeing young people come to know Jesus and working out who God has made them to be. More
Ben Thompson's story
As a teenager, my passion was for music, both at school and in my (non-Anglican) Church. I trained to become a professional musician, and fell in love with and, in my early twenties, married a music academic . My time spent at church was chiefly centred around Music in worship and outreach More
Lizzy Barrett's story
After being distant from church for some time in my teens and going through a particularly challenging first year at Uni, I felt pulled to try church again. This also resulted in me experiencing Alpha for the first time. More
Phil Manning's story
I am currently going into my final year of training for ordination. The last five years have been unexpected, exciting and, eventful as I have felt a calling, explored it More
Josh and Sam work with the Advisor for Lay Ministry and the Advisor for Vocations and Ordinands:
To encourage young people to discover how God is calling them forward by exploring their vocation in the widest sense;

To identify any hurdles that might prevent young people from pursuing their calling in this diocese;

To raise the profile of young vocations in this diocese;
If you would like to connect with Josh or Sam please contact the Adviser for Vocations and Ordinands.