But one day it hit me how much I was loved by God - in a personal way, warts and all.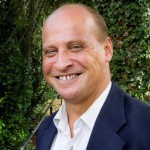 I grew up in a loving Christian family. My father is a priest in the Church of England and we moved to several parishes in the Chichester Diocese when I was young.
I knew that God loved me but I faced a crisis of confidence in myself and my abilities during my teenage years. I had a terrible stutter and stammer but one day it hit me how much I was loved by God, in a personal way, warts and all.
Knowing that God loved me unconditionally meant I grew in confidence in myself, my abilities and my potential.
As a university student I had the privilege of attending a conference at Ampleforth Abbey. I was prayed for in a quiet and unobtrusive way by one of the brothers there, which was hugely profound.It was here that God confirmed his love for me and I experienced his healing of my extreme stutter and stammer.
I grew in confidence in my speaking and like Moses, who had a stammer, I felt God could use me in spite of my speech impediment.Later I felt a real calling to full time Christian ministry but I was left wondering how God could possibly call me to serve him with the stutter and stammer I had. Over the years of ordination training I did attend speech therapy at college, which helped enormously in the process of continued healing too.
God called me and equipped me to serve him in the Anglican Church. He gave me the gifts I needed and healed me of my stammer. I know that when I get tired or over enthusiastic I can speak too quickly or swallow sentences but, through quiet prayer and breathing exercises, I am able to slow down and am much more confident speaking publicly than I once was.
I continue to be thankful to Him. A verse which often helps me to remember God's healing love is, 'When I am weak I am strong'.
God uses me through my vulnerabilities so that I can reach out to others. The effect this whole experience has had on me is that, since speaking has been a struggle for me, I do try, when I speak, to speak encouraging words based on God's love and compassion.
Revd Canon Simon Stevenette is Vicar at Christ Church Swindon, chaplain to Swindon Town Football Club and is the Area Dean.
Contemplate now
Whats your greatest, possible secret, vulnerability?
How can this become a means of sharing love in the world?
Pray for God's blessing on this.
Meditate through the day
Look for occasions where strength is really weakness.