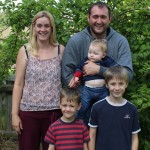 On the day I was pretty nervous. We had to stand at the front of the church and explain why we were choosing to be baptised. We said it in our own words.
Back in the summer, five members of the same family - Dad Matt, Callum (17), Alby (9), Jack (5) and Arthur (6 months) were baptised in Yatton Keynell, Wiltshire.
Matt and his partnerHeidi explain why this was important for them and share their experience
Heidi
I was baptised as a little baby and it was always important to me that my own children were baptised too. However we didnt do it earlier because the older children are mine from a previous marriage and my ex-husband didnt want to. So it never happened.
When Matt and I had Jack, we talked about baptism then, but it just didnt happen. Life got in the way. Then when Arthur came along we said, right, lets do it now. We need to get them christened.
I was a bit worried though about whether it was right because of the whole second marriage thing. So I talked to our vicar Jonathan about it and he reassured me it wasnt an issue and told me anyone can be christened.
With the younger three Albie, Jack and Arthur it was our decision to have them baptised. But with the older two, Callum and Charlie, we gave them the choice. Callum wanted to, but Charlie didnt. We kept asking whether he was sure but he had to come to his own decision and we had to respect that. Hopefully hell rethink that in the future.
Matt
It was important for me to be baptised with the boys. Ive always believed and I wanted to join the children on their journey.
We dont go to church every week but we see ourselves as part of the church community. We love the monthly family services, especially the way Jonathan involves the children. Theyre not side-lined theyre very much at the heart of it all.
Before the baptism, Callum and I spent time chatting to Jonathan. We talked about our reasons, our beliefs and our experiences. Then we watched a DVD with the younger children to help them prepare. It talked about faith as being a journey with God. It was really useful.
On the day I was pretty nervous. So was Callum. We both had to stand at the front of the church and explain why we were choosing to be baptised. We said it in our own words. I talked about wanting to walk alongside the children. It was a very special day.
And afterwards, I feel different somehow. Its hard to put into words. Its like I feel cleaner. I think I behave differently too. Im just nicer. Not that I wasnt nice before, but a lot more now! I think things through much more too.
Matt, Heidi and their family worship at St Margarets Yatton Keynell. Their vicar is Revd Jonathan Philpott.