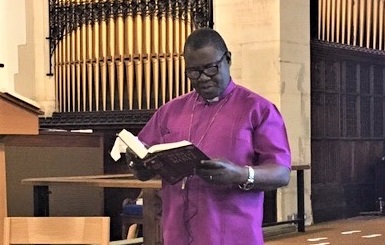 As part of their recent visit to the Diocese, two Ugandan Bishops joined a timely conversation on the climate crisis at Cotham Parish Church.
Climate Crisis, Lament and Hope discussed our response to climate change both as Ugandan and British churches. The evening was hosted by Rev David Stephenson, who reminded us that this is a challenge that faces us all, although the impact is not experienced equally.
He said Climate Crisis presents us with the opportunity to work and witness together to the integrity of God's creation. The Anglican Communion and our Diocesan link remind us that we belong together, and can be people of hope.
We heard movingly from Bishop Michael Lubowa about the situation in Central Buganda, where the poorest people are hardest hit by the rapidly changing climate and are unable to make a living through agriculture alone due to unpredictable weather patterns. These communities are turning to charcoal production as a livelihood, which involves cutting down precious trees to turn into fuel, thus exacerbating the climate crisis. Bishop Michael told us that they didnt want to damage their environment further, they simply had no choice.
However, Bishop Henry Katumba-Tamale from Western Buganda also shared some stories of hope. As the church in Uganda begins to respond to these environmental challenges, he told about an initiative in his province whereby every diocese has been gifted an acre of land to use in training local communities in sustainable agricultural practices. This helps people to guard against changes in weather patterns and also protect the earth. He also shared that a tree is planted for every confirmation candidate, as both a sign of their growing faith and as a gift to our shared earth. This got us thinking about how we could do the same in the Diocese of Bristol!
As well as stories and perspectives from Uganda, a panel comprising Deborah Tomkins from Green Christian, Caroline Pomeroy from Climate Stewards, and Clare Fussell, the Diocesan Environmental Adviser shared their hopes and laments, and the audience engaged in a lively conversation about how Christians can take action.
My prayer is that we become bolder, said Deborah, not only in our actions and in changing our personal lives, but in holding governments and big corporations to account as we stand in solidarity with our brothers and sisters around the world who are already suffering from the effects of climate change. The evening concluded with a space for contemplation, as we prayerfully took part in reflective stations situated around the church. It was a quiet yet purposeful end to a thought-provoking evening.
If your church is interested in getting more involved in tackling climate change, please contact Clare Fussell on clare.fussell@bristoldiocese.org who can provide information on initiatives that can help.