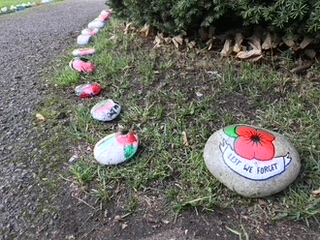 This years' Remembrance Day looked different across Bristol Diocese, and one parish decided to line the path to their church with painted pebbles.
The Revd Gail Thomas, Curate at Yate Benefice, put out a request on social media for people to decorate pebbles for Remembrance Day, which would line the church path at St Mary's, Yate. People across the benefice have painted over 400 pebbles, and are placing new ones every day—painted with care, and some are beautifully designed. A mother and son decorated a pebble in honour of the mother's grandfather, and placed his service number on the back. The Cubs, Beavers, Girls Brigade, and a local care home have also all been involved in the initiative.
The Revd Gail Thomas said: "I have been overwhelmed by the response of the community to my appeal for us to mark Remembrance Day by painting poppies on pebbles. By the time we reached Remembrance Sunday, 414 painted pebbles lined the church path to the memorial, painted by various groups from Yate including the uniformed organisations, school children, craft groups, Mother's Union, Yate Kindness Rocks together with many individuals - a true commemoration of the lives that were lost."
The Revd Ian Wallace, Team Rector at Yate Benefice, said:
"I have been amazed at the upwelling of community creativity represented across the stones. Some of the painting is intricate and beautiful and I have had a number of very moving conversations with members of the public viewing the stones. It seems that we have given people an avenue through which to express their desire to remember loved ones at a time when the other more usual channels were restricted due to Covid".
A member of the community said that "being new to the area of Yate and having a son with complex special needs, it was lovely being able to join Yate Parish, St Mary's Church in painting some Poppy Remembrance pebbles. Thank you so much as several members of our families died during the two World Wars.".
If you are near St Mary's Yate, the Remembrance pebbles will be on display until Saturday 28 November 2020.