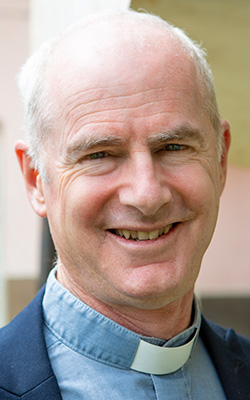 The Revd Chris Dobson has been appointed to the new role of Adviser for Parish Discipleship and Evangelism.

Chris is well known through his work as our Diocesan Global and Ecumenical Adviser. This new role is funded by grants from the national Church and is part of the commitment to supporting parishes as they respond to the call to 'build pathways into deep, lived-out Christian faith.'

"I'm looking forward to working with parishes, mission areas and deaneries in exploring different ways of enabling growth in discipleship and confidence in sharing the good news of Jesus," says Chris. "I'm excited to learn from the experience of both lay and ordained practitioners in their contexts and from different traditions."

Appointing Chris to this role has enabled the Diocesan Support Services to re-organise around the Transforming Church. Together strategy. A new Mission and Ministry Support Team has been set up, bringing together some of the functions of the Parish and External Relations Team with the Ministry Development Team. The inclusion of the word 'Support' is a reminder to the team that the primary focus should be to support and encourage everyone in every church in their mission and ministry.

"It is exciting that Transforming Church. Together has allowed us to bring together support for mission and ministry," says the Revd Dr Simon Taylor, Director of Mission and Ministry Support. "We are looking forward to enhancing we are able to offer the churches and ministers of the diocese. I'm delighted that Chris Dobson has joined us and look forward to working with him to support deeper engagement with discipleship and evangelism in every parish."

For more information and to keep up to date with new developments please subscribe to our diocesan newsletter via the website and follow us on the usual Social Media platforms.