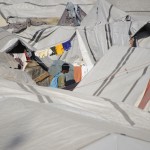 The Anglican mission agency Us (formerly USPG) has published a Lent study course for 2016 focusing on the global issue of migration and the plight of refugees.
The five-week course, entitled Migration and Movement,features stories from Brazil, Malawi, Myanmar and Zimbabwe, and takes a look at the lives of Filipino migrants living in London.
Rachel Parry, Us Director for Global Relations, said: "These are topics that are seldom out of the headlines and that touch all of us. Indeed, our church partners around the world have been talking to Us about these issues for many years, with the arrival and departure of people from communities creating both challenges and opportunities.
"These are very complex issues, and we do not claim to have the answers. But we hope this course will inspire and challenge Christians and churches to engage more deeply with the issues and to consider how we might respond."
Topics examined by the course include economic migration, the plight of refugees and communities displaced by climate change, as well as human trafficking.
David and Isabels story: Bolivians recruited to work in Brazil
David and Isabel moved to Sao Paulo with the hope of building a better life for themselves. They paid a recruiter in Bolivia to find them a job and were required to hand over their personal documents.
They had been tricked. They ended up sewing clothes on a production line, being forced to work 15-hour days, then sleeping on the premises. When they asked for wages they were verbally abused and threatened with being reported to the police for having no documents.
At this point, a legal organisation work with the local Anglican church stepped in and brought the case to the attention of the police. On this occasion, the factory owners were arrested after being caught red-handed in a police raid.
But such happy endings are few and far between; thousands of immigrants are suffering in silence.
The Us Lent study course Migration and Movement is available online, and free printed copies can be ordered.