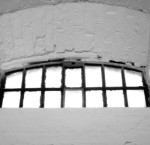 The Spirit of the Sovereign Lord is on me, because the Lord has anointed me to proclaim good news to the poor. He has sent me to bind up the broken-hearted, to proclaim freedom for the captives and release from darkness for the prisoner. Isaiah 61
Sixty-One is a partnership of Bristol-based charities, churches, businesses and individuals who have come together to work co-operatively to help offenders lead meaningful lives that are free from crime.
Director Tim Snowdon has been speaking about the work of the organisation. He said: Sixty-One is unusual in that its not just a charity running its own projects, its also a partnership that is to not only connecting Christian charities working with offenders, but also equipping and training the churches to support them as well. If we work together we are stronger, its as simple as that.
One of the main ways we do this is through our MentorMe project. Last year we trained over 70 people from the churches of Bristol to become mentors to ex-prisoners. The MentorMe team run an intensive (but fun) course equipping Christians to be able to help ex-prisoners achieve their objectives.
In addition we arranged for prisoners in three local prisons to receive a gift bag from the churches of Bristol. As well as the gifts we also gave the prisoners the option of receiving Lukes Gospel - over 1,000 of the 1,600 prisoners took a copy. Please pray they will read it. Well be running this project again next year.
Another idea we are excited about is the Church Hub project. Silas Crawley, the founder of Hope Chapel, is helping other churches become equipped to work with ex-prisoners, in the way Hope Chapel is. It is our aim to have five Church Hubs covering the Greater Bristol area, providing specialist support for ex-prisoners.
Jesus quoted Isaiah 61 when he started his ministry. This verse is our inspiration; to be able to offer prisoners a way out of their darkness is a blessing that is particularly needed now. Many prisons in this country are struggling in a way not seen for decades, with very high levels of self-harming, drug abuse and suicide combined with worryingly low staffing levels. For many ex-prisoners there is no one to turn to, except the church. Are we ready and equipped to receive them?
If you, or your church, are interested in getting involved in any of the projects mentioned above, please contact alison@mentormeuk.org. To find out more about the work of the organisation, visit the website or follow them on Twitter.
.