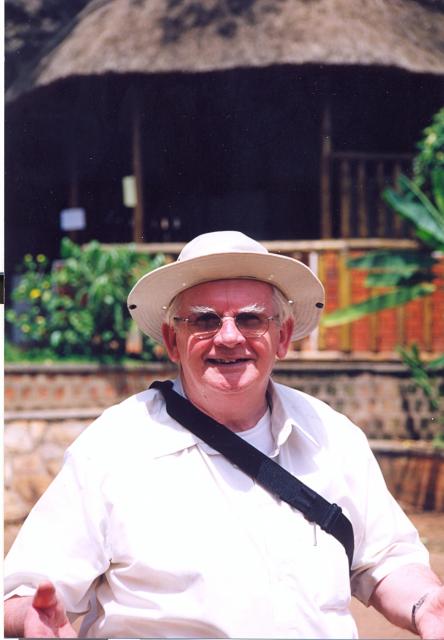 We have been deeply saddened by the news of the sudden death of Father John Bradley on Wednesday 12th August, one of the assistant priests at Westbury-on-Trym Parish Church; he will be greatly missed. His funeral will be held on Wednesday 2nd September at 1.00 p.m. in the Parish Church.
John was a long and loyal supporter of the Diocesan Link with Uganda. He came across as a gentle, courteous and unassuming man, yet when the need arose he was also a man of courage and action. In 1985 he visited the Diocese of Mbale at the height of the troubles and stayed near Kabwangasi training college in North Eastern Uganda.
This is his account in his own words,
"A meal has been prepared ... rice, meat and matoke ... suddenly our peace is shattered. An immensely lound bang is followed by others and shouting. Automatic fire is coming through the glass front door. The gunmen are in the room ... As I go down I feel a sharp pain in my shoulder ... Bullets hit the floor beside me ... One of the intruders has a panga. It swishes jsut above my head, too close for comfort ... it lasts for some ten minutes ... one by one we picked ourselves up ... I light the lamp. Some seeem to have been hurt quite badly. The worst is the local rural dean, with a bullet wound in the head. A flesh wound only, but he has lost a great deal of blood. ... we got him to an armchair. Someone produced some small plasters and gave them to me. I used to of them to hold his wound together (the bullet had grazed his temple) then cut my pyjama trousers in two and used one leg to make a tight bandage to stop the flow of blood. He said it hurt, but it worked."
While many people after an experience like that would have gone home to recover, John, after a day of rest, went on to complete another 17 days touring the diocese, preaching, teaching, listening and befriending. A great ambassador for the diocese and his Lord. On his return he asked that the "Close links [with Uganda] should be strengthened in spite of his experience."
His last act for the Link was to draw together a small exhibition of photographs and memorabilia for the 40th Anniversary Celebration of the link and it was a great joy that he was able to be there for the service in May 2009.