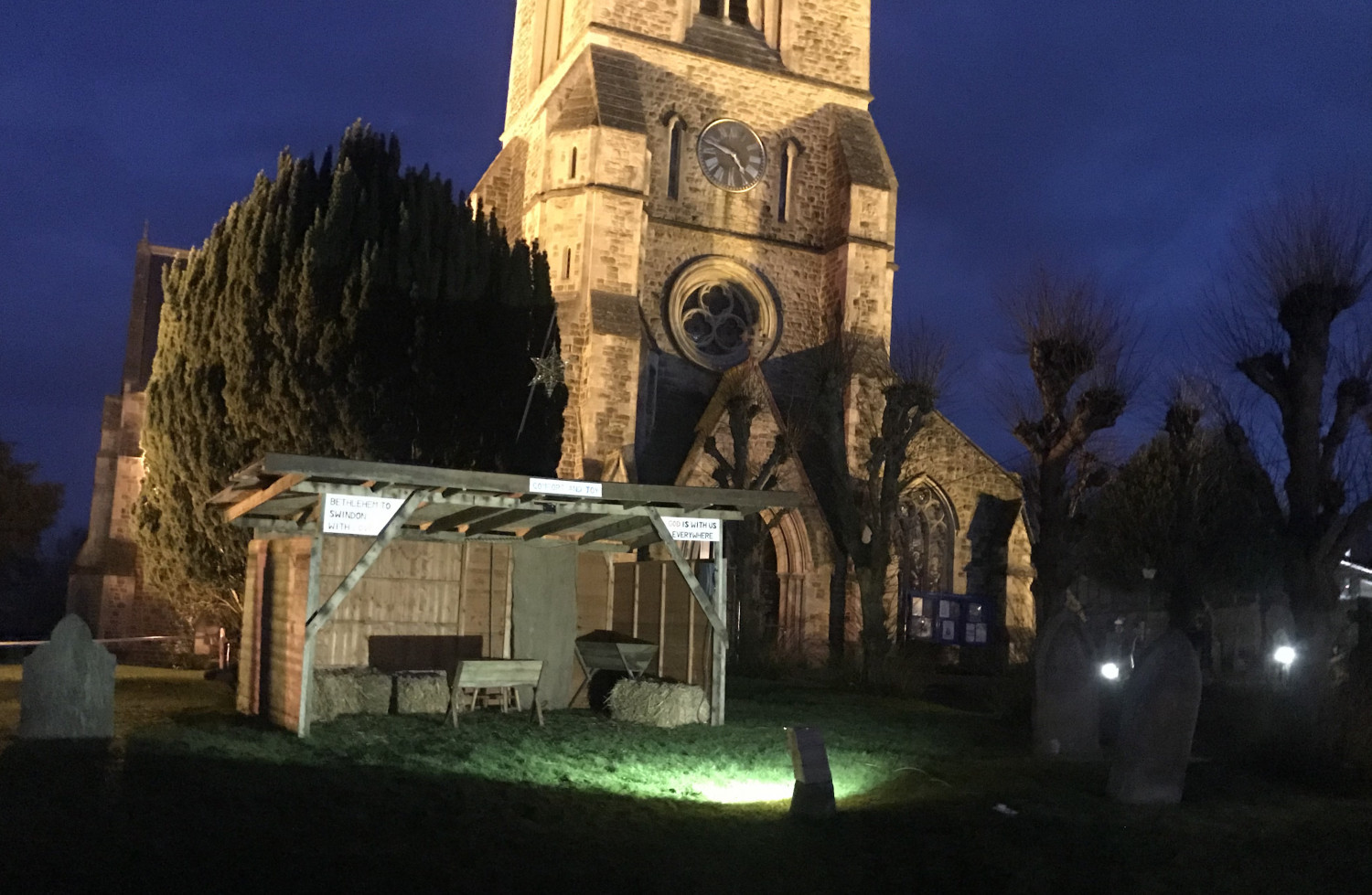 An eco-stable has been built in the church yard at the front of Christ Church Swindon, made with wood from discarded fencing panels and local rubbish sites.
Christ Church Swindon, as part of the Old Town Partnership of Churches in the Diocese of Bristol, has been doing all that they can, along with the wider Swindon community, to celebrate God's amazing world through practical acts of care and kindness, looking after its future and recognising the enormous world-wide challenges caused by climate change and the COVID-19 pandemic.
In March, at the beginning of the pandemic, they commissioned Gervin Senior to make outside installations on Jesus's death and Resurrection. These were called 'Crucifixion Recycled' made from tin cans and the 'Resurrection Retreaded' made from karting tyres. Now, in December to complete the set, Gervin has designed and built an eco-stable standing in the same place in the church yard at the front of Christ Church.
The stable wood comes from discarded fencing panels and local rubbish sites. Designer Gervin Senior said: "Every problem is an opportunity. I am grateful to members of the Swindon community for helping with this project with practical gifts. I hope it gives everybody a lift this Christmas".
The words on the front of the stable are:
From Bethlehem to Swindon with love
Jesus gives us comfort and joy
God is with us everywhere
The Revd Canon Simon Stevenette said:
"Christmas is not cancelled we are just doing things differently this year! Our priority is keeping people safe and telling the Good News of Christmas that God has come to us in his son Jesus Christ in a lively contemporary way.
"We are enormously grateful to Gervin for masterminding this creative community stable. We hope and pray that people of all ages will engage with this stable's simplicity and atmosphere and have unforgettable memories by and in our stable which is a gift to our Old Town Swindon parish."
The eco stable is only one part of the church's practical response to supporting their community through the Covid 19 pandemic. There has also been a Keeping in Touch pastoral support scheme as well as a gift of over 100 hampers to be delivered to people on their own, as a token of love and encouragement, on 23 December.
How to visit and make use of the stable
All are welcome to call by anytime, either in the daytime or when it is lit up after 4.30pm.
People are invited to bring a recyclable symbol which expresses their longing this Christmas without using words.
Families could dress up as Mary, Joseph, the Shepherds, the Kings, or the animals to have a photograph in the stable.
People are also invited to sit on the straw bales inside the stable for some quiet reflection looking down on the noisy Cricklade Street road.
You can also combine your visit by calling in to Christ Church for personal prayer from 9am-5pm. A face covering must be worn for visiting the inside of Christ Church.