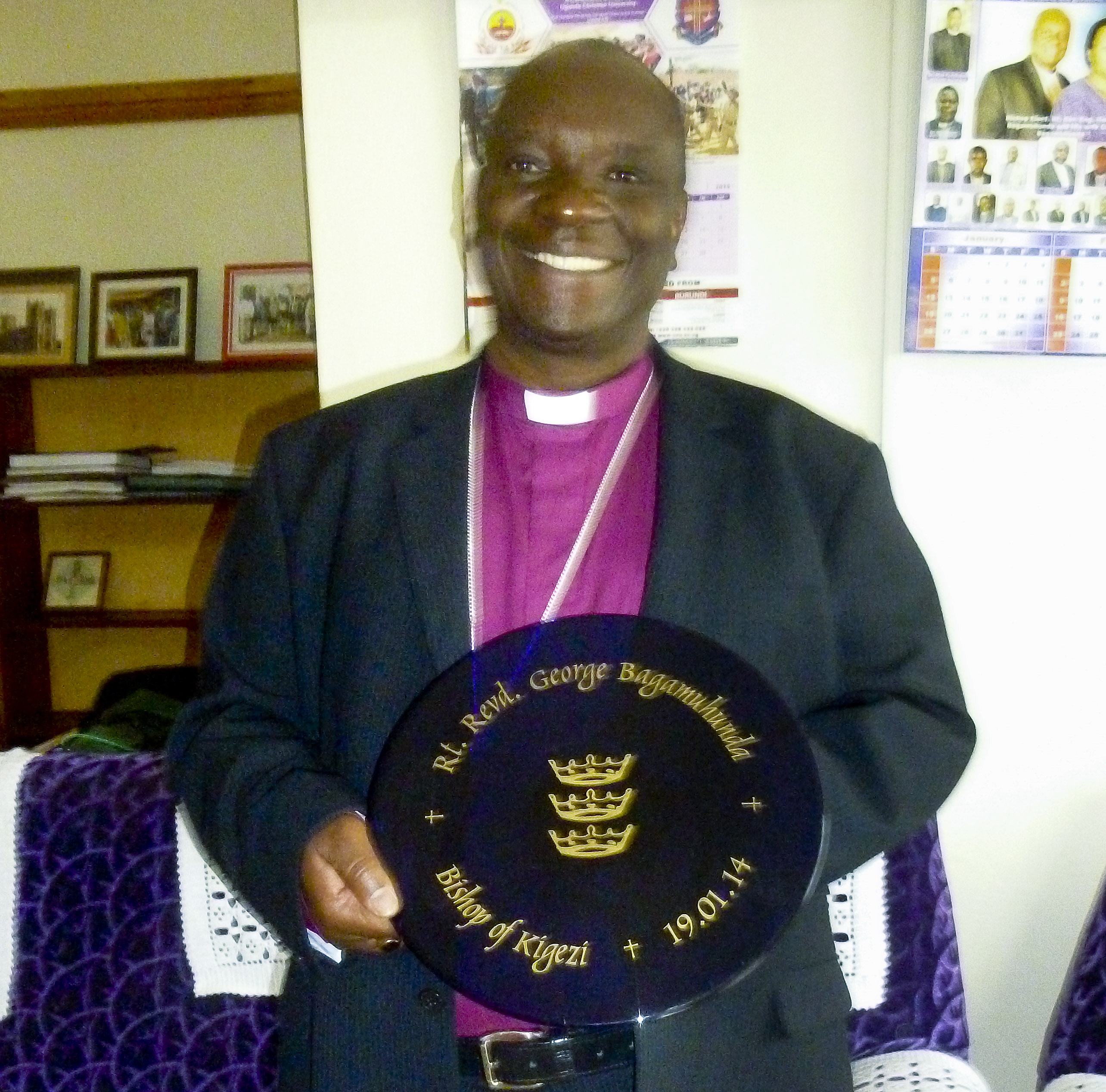 Rev Shirley Danby (North Wiltshire Deanery chair) visited Kigezi Diocese in January 2014, where she represented Bishop Mike Hill and the Diocese of Bristol at the consecration and enthronementof Rev Canon George Bagamuhunda as 5th Bishop of Kigezi.
George is well known and respected in the Diocese and across Uganda for his work as head of the Kigezi Diocese Water and Sanitation Programme and latterly as Provincial Secretary.
Click here to view a gallery of photos from Shirley Danby
A great celebration
Archbishop Stanley Ntagali consecrated Bishop George in the presence of thousands including the Archbishop of Rwanda, bishops from across Uganda and the world, political and civic leaders. Following the service a full cooked meal was served to all the guests. Shirley presented Bishop George with a commemorative blue glass plate as a gift from Bishop Mike Hill and the Diocese of Bristol.
Building the Link
Shirley stayed on for a few further days in Kabale to make a number of significant visits:
The new director of Education Revd Captain Wilson hosted her on the island of Itambira on scenic Lake Bunyoni where he is gradually creating and building a centre of healing and wholeness for the local community.

A meeting with the Administrator of Rwancherere High School to hand over a welcome donation towards flooring from the Upper Thames Group of Parishes.

She also visited Kigezi High school,

Spent time learning about life in Uganda from Diocesan MU members

Enjoyed Ugandan hospitality at the home of the head of Kabale Prep which is linked with Ashton Keynes Primary.

The Diocesan office communion service (followed by tea and cake) with staff and visitors, at which Bishop George celebrated.
Shirley concludes:
We will continue to pray for Bishop George and the Diocese of Kigezi, we wish him and his family every possible blessing and look forward to many years of fruitful relationship to come.