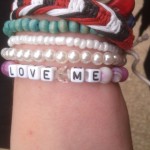 This month we are askingpeople across the Diocese to reflecton what Advent and Christmas mean to them. Here, Chris Priddy, Director of Swindon Youth for Christ asks us to think about and pray for those whoseChristmas will not be a time oflove and joy.
Last Christmas we asked a group of young people the question, What do you want for Christmas? They responded, as we expected, with a list of gifts that included: Xboxes, iPads, CDs, DVDs and new clothes.
However, at the end of the session, one girl came up to us and said, I dont really want those things for Christmas. All I really want is to feel loved, a comment that broke our hearts.
In a secondary school playground I spotted a young girl wearing a homemade bracelet; she had used letter beads to create the words love me on it.
Love me is the cry of the generation of young people we work with at Swindon Youth for Christ. Many are living lives surrounded by things and stuff, yet craving a deeper sense of love in their lives.
For many of these young people, Christmas will not be a time filled with love and joy, their situation and circumstances will instead fill them with anxiety, fear, sadness and sorrow.
Please join us this year as we pray for these young people specifically.
This year's John Lewis advert, the one starring Monty the Penguin, is backed by Tom Odells song Real Love. For school assemblies we have been playing it over images of the Nativity from The Bible DVD. As we watch the shepherds in the fields the lyric, Seems like all I was really doing was waiting for you plays out and, at the moment when Joseph lifts Jesus for the first time, Tom beautifully sings, Its real love, its real love.
At Christmas, love - unconditional, unchanging, undeniable, perfect love - enters the world, enters our lives and transforms us from the inside out. Until this moment all we've really been doing is waiting for Him, waiting for love.
This Christmas may you know the love of Christ in your life, but may you also pray for and consider those in our Diocese and beyond, who are still seeking His love and for those whose experience of Christmas will be lacking in any expression of love this year.
#ChristmasMeanslove among us, lifting us, filling us, surrounding us and transforming us.
Rev Chris Priddy
Director of Swindon Youth for Christ