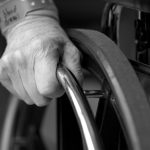 Alice Kemp, Disability Adviser, considers how churches should respond to hate crimes against disabled people.
This morning I heard an article on BBC Radio Bristol about disability hate crime in Bristol.
They gave the worrying statistic that twenty cases of hate crime against disabled people were reported to Avon and Somerset Police in June and the point was made that these were only the cases that people felt safe enough to report.
They also gave figures released under a Freedom of Information request which make our region one of the worst five areas in the country, up there with Greater Manchester and London for disability related hate crime.
These figures have come out at the same time as the charity, Victim Support says being disabled makes you three times more likely to suffer a violent crime.
There was also a distressing interview with the mother of a disabled child talking about the disability hate crime her son and her family have suffered as a direct result of his disability.
As disability adviser and also the parent of two disabled young adults, it made me wonder what as Christians we can do about this. And how could our churches support those who are being targeted and challenge the attitude that it is acceptable to target the weak and vulnerable.
In his ministry Jesus again and again challenges inequality, discrimination and marginalisation. So surely it is our calling as Christians to do the same and lead the way in our communities in challenging attitudes that encourage people to attack the vulnerable and instead show how we can fully include disabled people in our churches and celebrate the contribution that they make.