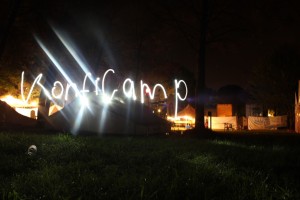 Four youth workers from the Diocese of Bristol travelled to Northern Italy to broaden the link with the Lutheran Church in Bavaria over the August Bank Holiday Weekend.
Their destination was Konficamp, a large-scale residential that prepares hundreds of young people for confirmation into the German Lutheran Church.
The visit was part of our ongoing link with the Lutheran Church in Augsburg under the Meissen agreement and a generous grant was made to enable it to happen by the Oliver Tomkins Trust.
James Creed, Dan Jones, Simon Philips and Robert Smith were overwhelmed by the hospitality and welcome they met.
Diocesan Youth Adviser, Dan Jones, who led the party, reflects on what was a memorable trip:
It was fairly early on that we realized that confirmation preparation at Konficamp was very different in comparison to our own experiences. The teaching sessions were long and we often struggled to understand some of the content and teaching points, so we just waited for opportunities to share.
"During these times we would often be asked about our lives, our faith and share our thoughts during the teaching and we were more than happy to oblige.
"By mid-week, we were beginning to piece together a picture of the Lutheran Church in Germany, what life was like for young people and their thoughts on Church, Konficamp, confirmation and faith.
"What was also happening was the Germans were creating their own pictures of the Church and young people in the UK.
Hosted by Rev Dirk Dempewolf, who served in the Diocese of Bristol for several years as a chaplain at UWE, the group was encouraged to share and lead worship; tell their stories of faith and pray with people.
The next day we heard stories from all the leaders saying how some of their young people were moved to tears because of the message we had shared.
Future plans include inviting German youth leaders and young people to join Bristol church groups at Soul Survivor in 2014 and further visits to the Konficamp.