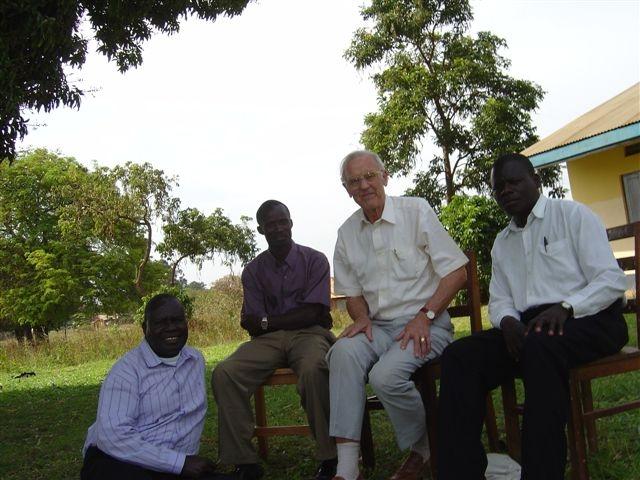 An inspirational leader
Before becoming vicar of Stapleton in 1970, Canon Norman Campbell had been a missionary in Northern Uganda since 1949. His love of Uganda made him a great advocate of clergy training and he was instrumental in supporting Janani Luwum Theological College in Gulu. He did all he could to impress on the Diocesan Uganda Link (40 years old in 2009) and others the vital importance of its role in the North.
A friendship begun
When a former bishop of Northern Uganda, Gideon Oboma came to Trinity College, Bristol for training, St. Peter's Henleaze, provided much of the furniture for his and his wife's accommodation. This started the support that the church has made each year to the North. But perhaps just as important has been the friendship that has grown up between the Church and the people in Gulu.
Personal visits keep the link alive
Over four years ago Richard and Judy Winn went with others to represent the Diocese at Archbishop Orombi's Installation and then flew north to visit Janani Luwum College. Though rebel activity was still in evidence we spent a peaceful day at the Theological College, which is struggling to survive. They showed us with pride the Library and other buildings to which the church had contributed. But the real joy was an opportunity to discuss in small groups with the students who were eager to listen and contribute. (See photos) They were particularly interested in the West's version of the homosexuality issue!
Sacrificial service means education continues despite the difficulties
The college relies on students coming from Nebbi and southern Sudan as well as the area of the North. But these areas have no money to pay for the fees as rebel activity has devastated the area for over the last twenty years. The teaching staff has taken no salaries for some time. The college is trying to provide other courses than theology and hopefully tieing up with the new Gulu University. The College needs all the financial help that can be given, and this is the concern of us all in the Deanery, as the college is vital for the training of the church leaders in this war torn area.
Article contributed by Ricky Winn