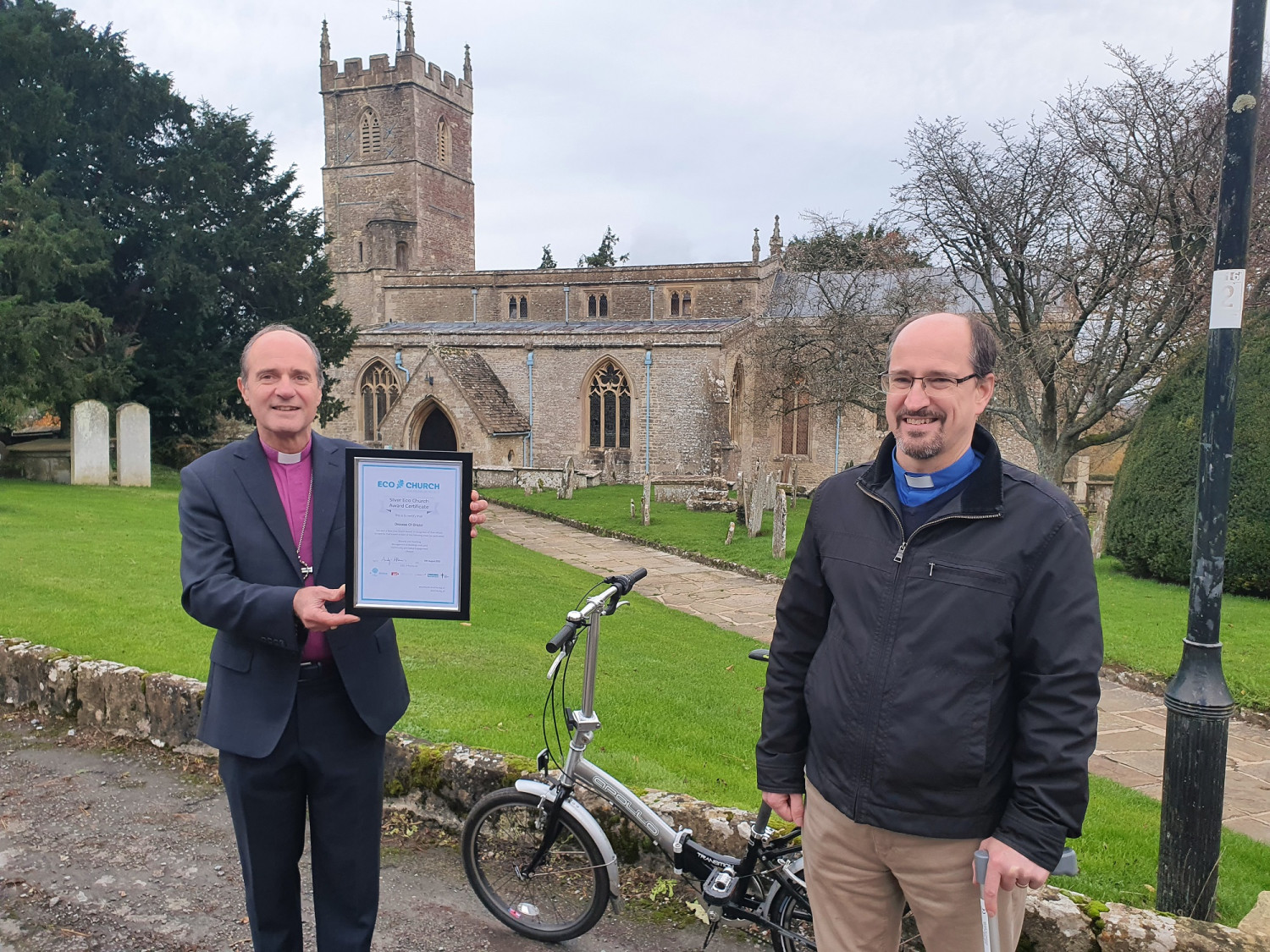 Rt Revd Dr Lee Rayfield holding Eco Diocese certificate with Revd Phill Harrison
The Diocese of Bristol is excited to announce that it has been awarded two awards as an Eco Diocese— Silver for its operations, and Bronze in recognition of its wider engagement— from the national environmental charity A Rocha.
This Bronze award is in recognition of the many churches across the diocese who have worked hard to make their buildings and worship greener, and who have received Eco Church awards this year. It also rewards the efforts of the Diocese in integrating care for the environment into its strategy, training, investments and communications.
Helen Stephens, Church Relations Manager, A Rocha UK said "We're delighted that Bristol Diocese has achieved a Bronze Eco Diocese award, a fitting testament to the Diocese's initiative in being the first to declare a Climate Emergency. Both Eco Church and Eco Diocese provide a framework for the sustained response that the Church needs to make in a time of both climate and biodiversity emergencies. Well done to all involved."
Let's encourage and spur one another on in this vital task.
In 2019 the Diocese of Bristol became the first in the UK to declare a climate emergency and commit to reaching net zero carbon by 2030. Since then it has worked closely with partners across Bristol and the wider region to reduce its emissions and bring environmental concerns to the centre of its work. Bishop Lee Rayfield, the Bishop of Swindon, is delighted with the award, saying "With so much concentration on the Covid-19 pandemic and its impact, it is important we do not lose sight of other hugely important challenges such as the need to address climate change by reducing our carbon footprint. I have been heartened and delighted by the number of churches whose efforts have been recognised through receiving an Eco Church award. Let's encourage and spur one another on in this vital task."
Bishop Lee is photographed above with Revd Phill Harrison outside Wroughton and Wichelstowe Parish Church, which has recently also been awarded a Bronze Eco Church award recognising its environmental action.
Revd Mark Pilgrim, Vicar of St Peter's Henleaze, Bristol said 'It's fantastic to see Bristol Diocese taking a lead on environmental issues, and making ambitious commitments to address climate change. This award recognises the efforts made so far to encourage the wider diocese to take strong action." St Peter's Henleaze was delighted to gain a Silver Eco Church award from A Rocha, and looks forward to working together with their sister churches to do more to reduce their carbon footprint into the future.
Would you like your church to work towards an Eco Church award? Or if you have already signed up, would you like to submit further details towards your reward application?
Head over to the Diocese's Eco Church Award Scheme page for further information.
For the latest updates and information on the Diocese's environmental work, head over to the Environment and Climate Justice page.