In this months Bishops Letter, Bishop Mike asks how we can apply what we know we need to do in our physical lives to our spiritual lives.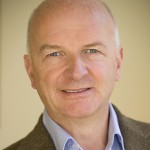 I have always admired those people who make a long-term commitment to living a healthy lifestyle. Its one of those things that I nearly achieve, but not quite, although ironically, when it comes to eating habits my Type 2 diabetes has actually helped me.
In a recent article in the Metro, some research from Harvard conducted by Dr I-Min-Lee concludes that inactivity causes as many deaths as smoking and that we in the UK are amongst those most at risk. Apparently only 40% of men and 28% of women meet the minimum recommendations for physical exercise (two and a half hours a week for adults).
It is widely agreed that exercise has very positive outcomes in terms of our health. It is established that regular exercise can reduce the risk of some very serious conditions. For example, regular exercise reduces:
the risk of a stroke by 27%
colon cancer by 25%
breast cancer by 21%
type 2 diabetes by 30%
hypertension by 50%
When you read this stuff it beggars belief that the majority of people in our nation live a sedentary lifestyle. Nobody really knows why this is and, to be fair, I see more people out exercising these days than ever before.
But is it true that, despite the many distractions of our culture, somewhere in all of this is the need for self-discipline? If the Olympics and Paralympics taught us anything it is this: that performance is built on practice and training and no-one can win a gold medal, or any medal, without a high degree of self-discipline in their lives. It doesnt happen by accident!
I dont think that many of us will flick an internal switch and go readily from a sedentary lifestyle to a healthy lifestyle overnight. Maybe the answer is to start small and then increase. Two and a half hours exercise per week works out at just over twenty minutes per day. In other words, two ten minute brisk walks per day would suffice. Put like that it doesnt sound quite as impossible.
Well all this is important, but equally I wonder whether there are not lessons here for the development of our spiritual lives as well. Time given to personal prayer, the reading of the Bible, worship with God's people, generous giving, silent reflection, spiritual reading and learning are all spiritual exercises that will keep your soul healthy. In a world so easily distracted, its easy to let these disciplines slide.
In Acts 2, Luke gives us a picture of what the new community of believers looked like.
And they devoted themselves to the apostles teaching and fellowship, to the breaking of bread and the prayers.
The outcomes that the Church achieved were based on the solid foundation of lives centred on a solid spiritual base. As John Ortberg has written, Growth should be the normal condition of every believer.
As with physical exercise the need for self-discipline is equally important and most of us will benefit from these disciplines being installed into our schedules by starting small and building them up in terms of our commitment and our time.
A group of Churchwardens recently told me about the amount of effort they put in to the maintenance of their church buildings. Clearly this felt like a huge commitment to them and to me as I listened to them. It made me wonder about the commitment we make to maintain our souls and our bodies, which according to St Paul are temples of the Holy Spirit.
Dont you know that you yourselves are God's temple and that God's Spirit lives in you? If anyone destroys God's temple, God will destroy him; for God's temple is sacred and you are that temple. 1 Corinthians 3:16-17
In other words, behaviours have consequences. On 20 th November, we are fortunate to have in Bristol Pastor Pete Scazzero from New York who will be speaking at St Marys Stoke Bishop on the subject of Emotionally Healthy Spirituality You might want to consider investing a day of your life in this important topic.