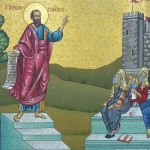 Following in the footsteps of St Paul, a group of pilgrims will be travelling through Greece this September.
Led by Bishop Mike alongside Archdeacon Christine Froude, the group of 30 will visit Thessalonika, Philippi, Delphi, Corinth and Athens.
Bishop Mike said: "At the beginning of the third millennium, it is good to look back to the first century missionary journeys of St Paul and the expansion of the early Christian Church, and particularly its transition westwards from Asia to Europe.
"St Paul was the first to bring Christianity to Europe and this pilgrimage will bring to life the early churches Paul found and corresponded with."
Worship, teaching, and celebration of the Eucharist will be shared as the pilgrims follow some of St Pauls pathways as described in Acts 16 and 17.
The trip will begin in Philippi, the first city in Europe visited by Paul and the one where he was imprisoned with Silas. There will also be a visit to the stream by the village of Lydia, where Lydia of Thyatira was baptised - the first baptism in Europe.
After heading down to Thessalonkia, the group will make its way into the mountains to see the Monastery of St John the Forerunner, and the Meteora Monasteries, dating back to the 14th century, which are perched high on gigantic rocks.
The journey will end in Athens, where St Paul spoke on Mars Hill, and includes a trip across to Corinth, finishing at Paul's departure point for Ephesus.
Keep an eye on our Facebook page for photographs from the trip.