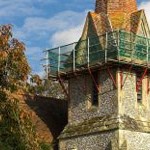 The Diocesan Advisory Committee forms a key part of the process by which parishes develop proposals for their buildings and obtain consent to carry out work. It works closely with parishes in caring for their buildings and in adapting them to support their mission and growth. In doing so it encounters many people working with incredible commitment and passion, often with significant obstacles to be overcome.
The DAC recognises the achievement of each and every parish. It celebrates every case where work is subsequently undertaken and completed, especially where that allows the parish to focus anew on its mission and in bringing people to faith in Christ.
Each year the DAC recognises a number of projects via its awards scheme. DAC awards are made where a parish has completed a project to an exceptional standard of workmanship, or where a project has been key to that parishs growth and mission.
Nominations for awards may be made by anyone throughout the year. Projects must be complete at the time of nomination. Reminders will be posted on the DAC pages of the diocesan website and direct to parishes in August/September. Awards will normally be made between Christmas and Easter.
The DAC is grateful for Ecclesiastical Insurance for its sponsorship of this scheme in 2016.
Committee notes:
Awards are discretionary there is no limit on how many are made and in certain instances awards may be made for achievement other than standard of workmanship (including conservation) or mission.
The awards themselves will take the form of a framed certificate, naming the parish and the specific reason for the award and signed by the Bishop, the Archdeacon and the DAC Chair.
Where appropriate the awards will be given at a reception event. Details of the parishes and projects being recognised will also be posted on the diocesan website, and made the subject of a diocesan press release.
Parishes will be encouraged to display their certificates on a suitable church noticeboard (noting that in some cases that might entail a List B consent for such) and thereafter retain the certificate with their faculty paperwork.