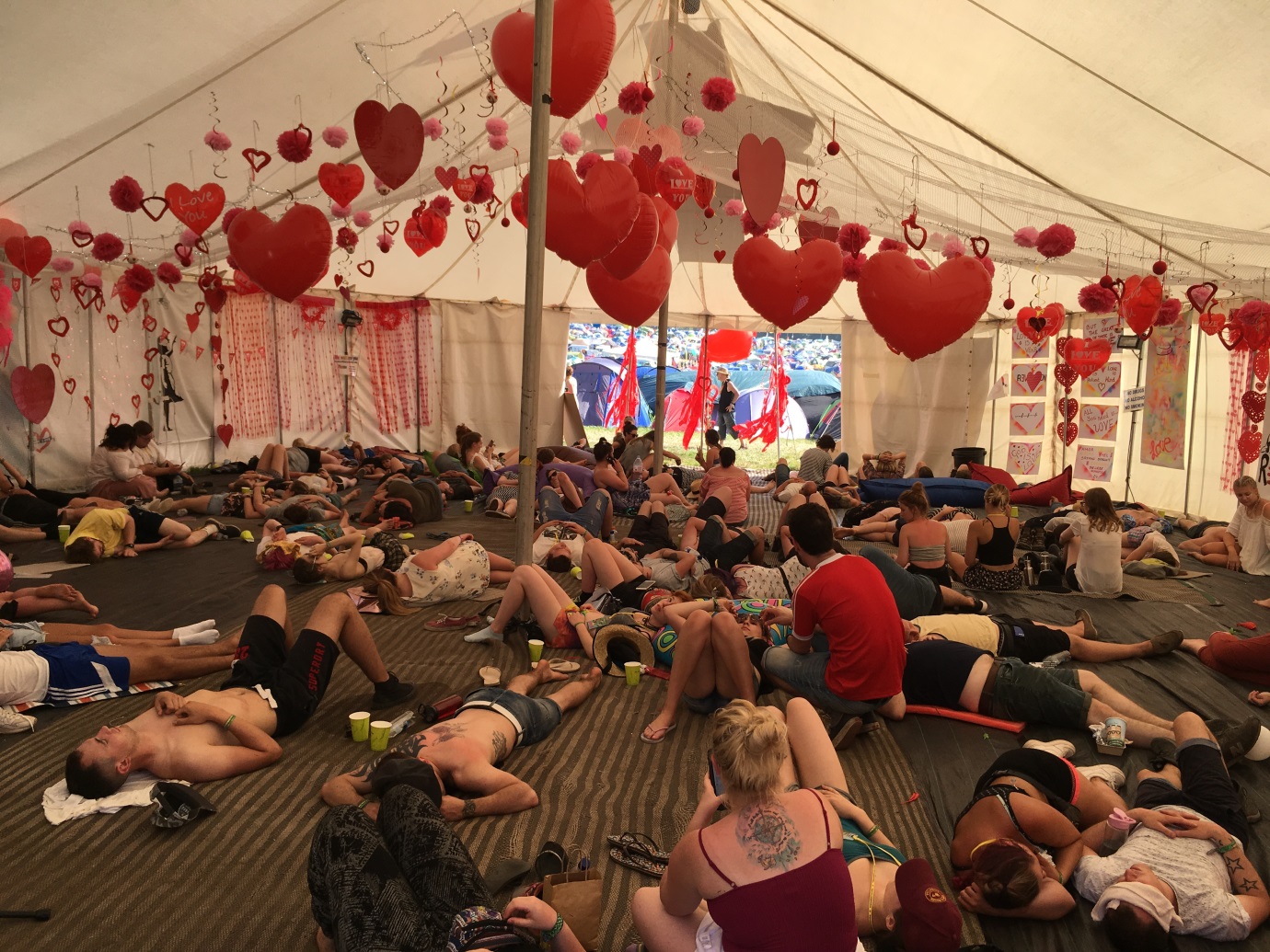 Revd Chris North, Acting Head of Ministry Development, volunteers each year in the Sanctuary Tent at the Glastonbury Festival:
Glastonbury Festival is one of the most iconic summer gatherings and is known across the world and as such it is amazing place to pitch our tent and be church.
I lead a small team of volunteers and each year we are invited to be The Church at the festival and to offer a safe place of welcome and sanctuary.
Our guiding statement is: As part of the Christian Church we intend to demonstrate the love of Christ in Action by offering festival goers a warm welcome, space to reflect and a willingness to listen.' What this means in practice is that a team of volunteers (70 in total) work 24-hours-a-day in organised shifts to offer sanctuary for the festival-goers and site staff.
During the day, creative activities are on offer for the festival, such as face painting, karaoke and acts of worship; as well as providing somewhere to shelter from the rain and mud or sun and dust.
During the night, we provide safe accommodation in our marquee for any festival-goer that find themselves lost, disorientated, or needing a safe space to sleep.
We hand out about 20,000 cups water each year, and whilst this may seem a small action, but due to the need for people to rehydrate (either because of the weather or due to partying) this provides many opportunities to show love and engage in conversation with others.
Our team is made up of people from Somerset and the adjoining counties who want to serve God by serving the festival. The team is made up of a mixture of new people, people who may have been before and some regulars the ages are anything from 18 to 70. To find out more information please have a look at the Facebook page.
The Sanctuary Marquee is also a wonderful way to reach out and serve a beautifully diverse community, and I personally find it energising, stimulating, and a real honour and a privilege to be part of. I have experienced God in so many ways and seen so many people blessed by our ministry, and may be God is calling you to be part of our team this year?