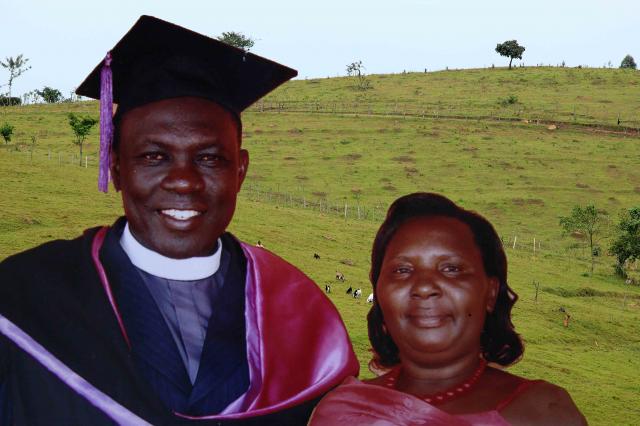 Rev Herbert Beegumanya graduated in June 2009 with an upper second class honours degree from Uganda Christian Unversity. His fees were paid by Kingswood and South Gloucestershire Deanery as part of their commitment to supporting clergy training in Uganda.
Herbert writes: Coming from a poor and non Christian background I did not imagine I would make such an achievement. However my belief in God and miracles kept me hopeful. ... It has not been easy for me because I have a family with children at school ... but thanks to Kingswood and South Gloucestershire Deanery I managed to get a good degree.
Equipping clergy for the demands of ministry benefits the whole church, as Herbert says: I have learned different strategies for development which will help my new archdeaconry. We are now planning a new Health Centre at Kinoni, the HQ of the archdeaconry.
He has also appreciated the opportunity to grasp a wider picture of the church. I have met various people from across the world and learnt about their cultures and ways of life. I have been able to keep up to date with changes in the world and in ministry, to become current with new religious and Christian trends.
Training enables better communication: Important to note is that my abilities in writing, teaching, preaching and presentation have also greatly improved. And these are life skills that will help me for a long time.
Why not make a gift to the UCU Bursary Fund for Ugandan clergy? You too can help to build God's Kingdom in East Africa by supporting clergy through training.
Picture: Rev Herbert in his graduation robes with his wife Mrs Alice Beegumanya