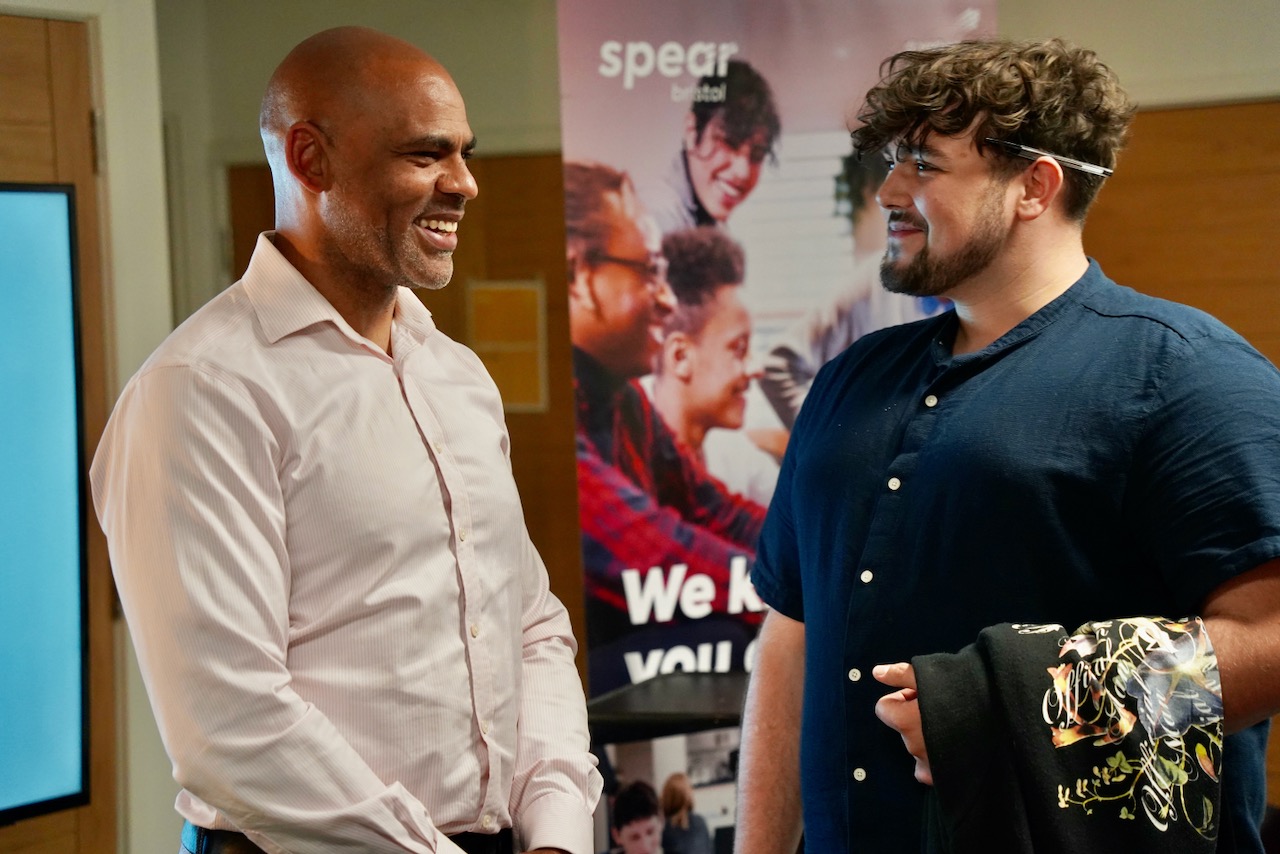 Spear Bristol launched in January 2022 and has since supported 43 young people aged 16 – 24 across Bristol, empowering them back into work or education.
The initial six-week programme is made up of a combination of group and 1-1 sessions, where experienced coaches help trainees overcome challenging attitudes, and offer practical training such as writing a good CV and mock interview practice. Each trainee then receives a full year of follow-on support.
Every programme ends with a Celebration event to acknowledge all that the young people have achieved in the past six weeks. The last Celebration on Wednesday 8 June saw young people share their stories in front of an audience of over 60 people, including the Mayor of Bristol Marvin Rees. The Mayor shared his own story and encouraged the trainees.
The Spear Programme, run by Resurgo, started over 18 years ago in London in response to the high rates of youth unemployment. Since then, 13 Spear Centres have been opened up across the country to help young people get into sustainable work or education. Spear believes that each young person has huge potential, no matter what barriers to employment they face.
The 5th Spear Bristol programme is currently underway and is due to finish with a Celebration event on Wednesday 27 July at 7 pm at Christ Church, Clifton. All are welcome to attend!
Izzie Thompson, Centre Manager, said, "It has been a privilege to be a part of this incredible team who has helped set up Spear Bristol. We are only 7 months in and yet so much has been achieved already. We have worked alongside incredibly resilient and determined young people who have created such a positive community with one another. Sometimes a young person is carrying the weight of the world on their shoulders. The best about my job is the moment when you see something lift. Maybe it is a look in their eye, a change in their heart rate or energy, or their spark comes back... and they realise that they have so much more to give".
Revd Paul Langham, vicar at Christ Church Clifton, said, "Launching the SPEAR Programme into Bristol has been an extraordinary privilege for us at Christ Church. The celebration evenings, at the end of each cohort of young people, are among the most inspiring events I have attended. Hearing young people, none of whom believed they could ever speak in front of a room full of people, talk about the challenges they've faced in their young lives, and the way that the mentoring and coaching they've received has changed their lives – it's just wonderful to see and hear the transformation in them. Jesus spoke words of life into people – and still does today … and SPEAR is a perfect vehicle for doing that. Without doubt one of the best initiatives I've had the joy of witnessing in all my years of ordained ministry."
Want to support SPEAR Bristol? There are many ways in which you can get involved:
If you have experience in the workplace and a passion for young people then you can volunteer in our Mock Interview or Career Panel sessions
Spear are always looking to partner with businesses to employ our young people or hold company visits
If you would like to give financially, then please give via the JustGiving page
Contact Izzie Thompson, Centre Manager, for more information about how to get involved.