God loves you the way you are, but He loves you too much to leave you that way. (

Quote from an ordination service)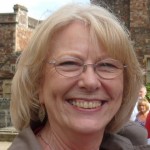 I fell in love with Jesus at the age of ten, and I have always had a strong awareness of His presence in my life.
Approximately 20 years ago, I went through a deeply painful time of rejection and separation. All my hopes and plans for the future were shattered. My lifestyle changed from one of comfort and security to one of financial insecurity, loneliness and uncertainty, especially when I had to sell the family home wed lived in for 25 years.
My marriage of 28 years had broken a marriage I admit, not made in heaven; a marriage where neither of us was happy, and Im well aware of my own contribution to that unhappiness.
Although I had always attended church, I did recognise that Id avoided consciously inviting God's Holy Spirit into my life, because I liked to think that I was in control, something I now deeply regret. However, nothing concentrates the mind like a catastrophe, and after much soul searching and prayer, I prayed for God's forgiveness, and asked Him to take over my life completely. I quite literally threw myself on God's mercy, and opened up my heart to receive His Holy Spirit, because I knew that only by His grace could my life be re-built.
During the past 20 years my life has been transformed, but God has been so gentle with me, changing me at a pace which I could cope with, drawing me closer to Him, strengthening me and encouraging me, and giving me the love, support and blessings of so many friends.
However, life hasnt been a bowl of cherries, and God has presented me at times with some fairly difficult challenges, licensed lay ministry being only one of them. I have had to evacuate my comfort zone' and make excursions into areas where Ive felt totally out of my depth, and I am so grateful to those amazing people who have supported me in prayer over the years.
God, by His grace, and so very often through the kindness of others, has come to my rescue so many times. Due to my stubbornness and pride however, it hasnt always been easy to accept peoples generosity. But Rome wasnt built in a day and we are all work in progress. How important kindness is in our lives, both giving it and being able to receive it.
By finally admitting my weakness before God, He was actually able to speak to me in a way I hadnt experienced before. I am a 'new creation' in Him, because He has begun those changes in me that were so necessary.
In the words of St Paul He (God) has done immeasurably more for me than I could ever have imagined possible.
Now to Him who is able to do immeasurably more than all we ask or imagine, according to His power that is at work within us, to Him be glory in the church and in Christ Jesus throughout all generations for ever and ever! Amen.

(Ephesians 3: 20-21)