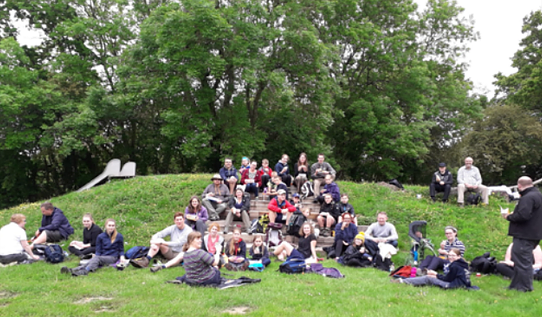 In May sixteen young people and eight adults from across the Yate and Fromeside Mission Area set off on a 62-mile pilgrimage walking from St Peters Frampton Cotterell to the Cathedral in Salisbury.
Each day of the pilgrimage began with breakfast followed by communion before we headed off singing our pilgrim song We are marching in the light of God. The day ended with an act of worship on the theme of the Fruits of the Spirit.
What will the young people remember from the pilgrimage?
Chocolate, Malcolm singing to wake them each morning, camaraderie and mutual encouragement, the difficulty of the walk (particularly the blisters!) but also their walk with God as the day was punctuated with worship that became part of their rhythm of life.
Read a day-to-day diary of the pilgrimage on the Yate Parish website.