Holy Trinity, Stapleton was been awarded a £15,000 National Churches Trust Cornerstone Grant to help fund roof repairs in their Grade II listed building, making the church watertight and preserving its historic fabric.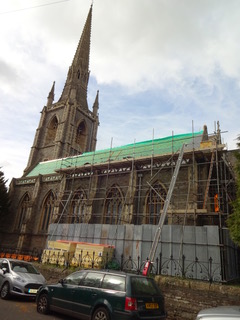 Repairs will be made to the roofs and rainwater disposal systems of the North Aisle, Chancel and Vestries. Slates and gutters will be replaced like for like to maintain the current quality of the building, and insulation will be added to improve the heating of the interior.
Huw Edwards, Vice President of The National Churches Trust, said:
"The UK's historic churches and chapels are a vital part of our national heritage and have done so much to help local people during the COVID-19 lockdown. But to survive, many need to carry out urgent repairs and install modern facilities. The cost of this work is far beyond what most congregations can pay for themselves."
"So, I'm delighted that Holy Trinity Church in Bristol is being helped with a £15,000 National Churches Trust Cornerstone Grant. The repairs to the roof and gutters will help secure the future of this historic building, which has been called the finest Victorian Gothic church in Bristol".
Delia Beake, chair of the Holy Trinity Stapleton roof appeal team, said:
"We are very grateful for the generous support of the National Churches Trust. Our shortfall is now under £15,000 and our aim is to raise the remaining funds by mid-September and complete the roof repair before the spring of 2021."
The National Churches Trust has three rounds of grants per year, in which grants are awarded to churches that have submitted applications. To date this year, they have awarded 145 grants totalling over £1million.