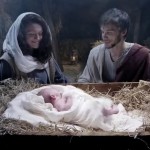 The Ven Christine Froude, Archdeacon of Malmesbury, brings us our final #ChristmasMeans reflection. Don't forget toshare your thoughts on Twitter on 24 and 25 December using the #ChristmasMeans hashtag!
He was born as a baby
To an ordinary teenage girl
In a stable...
Some wise men brought him strange, rich presents.
That first Christmas, nothing happened quite as you might have expected.
And that's not even the whole story!
Angel choirs and sleepy shepherds welcomed the baby too.
This was a very unusual birth... and a very unusual child.
When he grew up he did plenty of unexpected things.
He turned water into wine, made sick people better, and fed a crowd with just one person's picnic.
There's never been anyone else quite like him.
And now imagine you've been invited to visit this baby...
What presents would you take?
Where would you choose to be born?
Who would you choose to be your parents?
Imagine if you were God and you wanted to introduce yourself to the world...
How would you do it?
My son and daughter in law have recently had a son, our first grandchild, a miracle.
A reminder to us of that baby born in Bethlehem, Jesus, who is for us a glimpse of heaven, a reminder of the goodness of God.
I wonder how God felt to see his new born son?
Whether the shadow of the cross fell unexpectedly on that stable...
But for today let's rejoice and celebrate the birth of the baby.
The expected one, who unexpectedly changed the world!
Has he changed you?
Ven Christine Froude, Archdeacon of Malmesbury