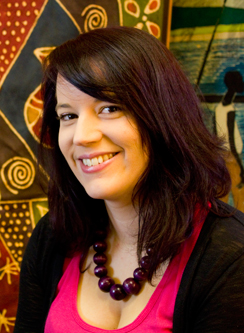 Louise Talbot who left the UK for Uganda in March 2012 grew up in Bristol and attended St Alban's, Westbury Park with her parents. St Mary Redcliffe and Temple School provided an environment in which she was able to flourish academically, socially and spiritually.
After completing her degree she went out to Mbarara to work as a Clinical Lab Technician sponsored by Africa Inland Mission on their short term mission programme Synergy Africa.
While in Mbarara she built up close links with a group of young women from a village environment who were being given the opportunity to develp themselves through the vision of an inspirational local headteacher - Mabel Twinamasiko.
Over the year Lou began to realise that her heart lay not in the science lab but in the world of counselling and support. On her return to the UK she has sought out training in counselling and is now returning to Uganda to work at Community Christian Family Ministries alongside her mentor and friend, Mabel, in encouraging, training and supporting young women from village backgrounds.
Lou is in close contact with Bishop Sheldon Mwesigwa of Ankole Diocese, and Kingswood and South Gloucestershire Deanery have undertaken to pray for her during her time in Mbarara. The Diocesan Link has also been instrumental in enabling her to become a CMS Salt Partner giving her added security.
She is very much looking forward to helping to host a visiting youth team from St Michael Stoke Gifford in July this year.
In the video she speaks eloquently of her sense of calling and her heart's desire to serve young women in Uganda for God: