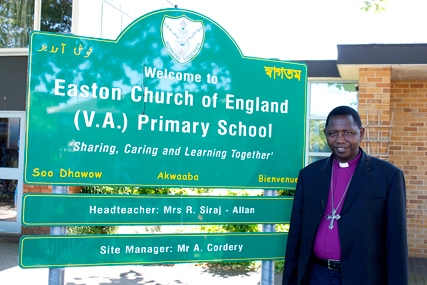 June 2010 marked the first exchanges in our new link with the Diocese of Masindi Kitara when Jackie Waters-Dewhurst hosted Bishop Stanley Ntagali at All Saints Centre.
A new departure.
This link represents something new for the diocese. Our other links are between deaneries and dioceses but our new link is between education departments. Building on the work of the Bristol-Masindi partnership which regularly sends teachers and pupils between Bristol and Uganda our new link will be looking at how we can promote and support schools links
Jackie Waters-Dewhurst, Director of Education writes:
In September I am making a trip with the Diocesan Ugandan link officer Chris Dobson to Uganda.This is a first for me and I'm not sure whether to be very excited or terrified! We are looking at forming a link between the diocese of Masindi Kitara and the Diocesan Department for Children and Young People here in Bristol. This week I met with the Bishop of Masindi Kitara who is in England for a few weeks. We visited Easton VA Primary school (thanks Rehana)and Bishop Stanley was very interested in the initiatives going on there. Initial talks throughout the morning were very promising and there will be more news next year as to the shape of the link.
Some of you are already linked with schools in this part of Uganda please let me know if I can use my trip to support you. I am aiming to take my laptop and dongle (!) so if any of you could use emails to support work in the classroom let me know I am considering keeping a blog if it would be of any use.
Further updates after September if I get back!
Jackie