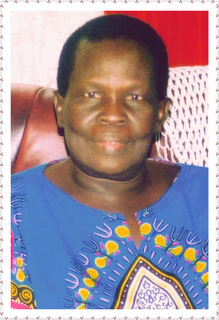 It is with sad, but grateful hearts that we received the following message from the Diocese of Northern Uganda.
"From Rev. Willy Akena
Christian greetings from the Diocese of Northern Uganda is the name of our Lord and Saviour Jesus Christ.
The Diocese of Northern Uganda with deep sorrow announces the untimely death of Mrs. Blandina Oboma, wife to Rt Rev Gideon Oboma the Retired Bishop of the Diocese of Northern Uganda. Blandina went to the Lord on Tuesday June 30, 2009 at 6:30 am from St. Mary's Hospital Lacor. She left behind four biological Children, two girls and two boys and many children she whom she has been caring for. Blandina has been a very hard working, dedicated, faithful, loving, caring and friendly lady.
The Burial was held on Tuesday 6, July 2009 beginning with prayers at 10:00 am at St.Philip's Cathedral and followed by a committal in the Cathedral Cemetery."
Gideon, with his wife, was one of the first bishops to train at Trinity College, and he had a close connection with St. Peters's Henleaze and the Deanery.
We have sent cards from the parish and the Deanery.
A full obituary can be read at the
Diocese of Northern Uganda Blogspot
Submitted by Ricky Winn