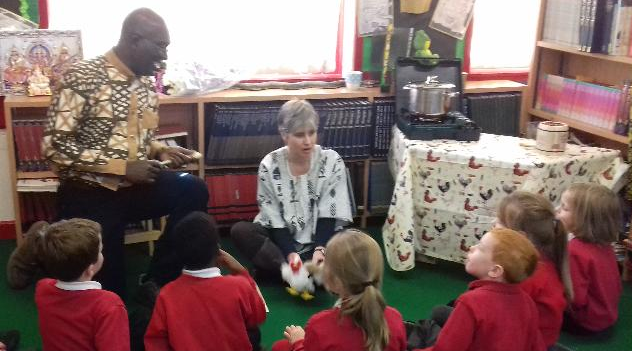 At the beginning of December, a group from West Swindon Church Partnership visited several of West Swindon primary schools [under the guidance of ur schools worker ~ Gayle Bryon] to share a Ugandan flavour of Christmas, with the children of all the age groups, from Reception to Year 6.
Their learning centred on more of a Ugandan village approach [rather than that of big city living]. The main thrust of Christmas there is that of giving and sharing, but not of spending large and larger amounts of money on presents. It was refreshing to work with the children on making presents from plastic bags, paper and string.
Each class spent time experiencing a variety of Ugandan Christmas related activities, including:
Ugandan Christmas Meal
Christmas dinner may be cooked outside and eaten outside; the children in Uganda might choose the chicken to be eaten and help prepare the vegetables.
The pupils played Kakopi Game - one player is chosen as the cook, who uses a wooden spoon to stir the food. All the other players sit in a row on the floor with their legs straight out in front of them. Their legs are the chicken bones and they are being cooked in a soup for dinner. The cook taps their legs one by one from one end of the line to the other whilst the children chant the Kakopi song:
Kakopi, kakopi, Making dinner in the pan.
Make it thick, make it thin. Make it anyway you can.
When the rhyme ends, the leg that the stick lands on is a burnt chicken leg and so that child must tuck that leg under him/her. When both legs are burnt, he or she is out. The winner is the last child to remain, and they are titled the Christmas Kakopi Dancer.
Ugandan Christmas Songs
The children wore a Ugandan scarf and talk about typical colours and patterns; played some typical instruments; and gathered round the crib scene singing a Ugandan carol:
Betelehemu, Betelehemu, Betelehemu, Betelehemu.
Awa yio riBaba gbojule. Awa yio riBaba fehenti.
Awa yio riBaba gbojule. Awa yio riBaba fehenti.
Betelehemu, Betelehemu Betelehemu, Betelehemu
Ugandan Decorations
It was explained that the children in Uganda would normally help to clean the home and garden. The pupils made flower garlands or beaded decorations for a Christmas tree, using primarily red and green colours.