I could not believe in a vengeful God and it was only gradually that I came to know Jesus as a real person and friend.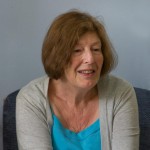 Death is something we all face. As an 8 year old, I faced my mother's death knocked off her bicycle by a car. We attended a modern Anglican church then in Stafford and I was presented with a number of platitudes."Your mother was so good she was chosen especially by God to go to Heaven early," was one I remember.
My father was devastated and viewed her death as a punishment from God. I believed it was my fault too and that I needed to be good, although I could never live up to the memory of my mother.
My father remarried and we attended church regularly. I joined the choir and was confirmed. I expected the Holy Spirit to fill me immediately and was disappointed just to feel a heavy hand on my head. A real blessing was the birth of my half brother and I was able to love and to share in his care. I also came to love my stepmother.
Although my father suffered bouts of depression for the rest of his life (and I now appreciate the quiet but steadfast faith that allowed my stepmother to cope), he was very supportive of my education and encouraged my yearning to travel.
When I left school, I spent a year in Uganda with VSO as an unqualified teacher and the first question I was asked at the school was whether I was Catholic or Protestant. I thought this a very strange question to ask did it matter? The year was a great learning experience!
I married and had started attending a church regularly again when the children were small, perhaps for friendship or was it duty? I remember crying a lot during certain hymns and prayers. I found friendship and fellowship and made several attempts at trying to deepen and clarify my faith. I remember my father had bought me daily bible reading booklets over many years which I had hardly looked at but now I started reading daily notes and prayers, read a number of books and attended some day courses.
I could not believe in a vengeful God and it was only gradually that I came to know Jesus as a real person and friend. Then I signed up for the two-year
course.
I can't say I had a conversion experience I already regarded myself as a Christian but the study enabled me to work out what was important to me and the fundementals of my belief and faith. I would still regard myself as a 'Lily Livered Liberal' and I felt called to do more with my faith. I wanted to learn how to really serve God and be led by the Holy Spirit.
Answering a call to Industrial Chaplaincy and further training has led me to being a Lay Chaplain. I'm still learning but chaplaincy allows me to express my faith; being there for people of all faiths or none; listening; answering questions if asked and just being a witness as I and my colleague tread the streets of an industrial estate. I am encouraged and supported by my Anglican minister and my local church
I have felt redeemed and saved for a long time but how to serve, that is what I am still learning. I don't have to understand everything, just enjoy a deepening relationship with my Creator God. I try not to do things in my own strength any more and trust that whatever happens, I can live in hope and death hath lost its sting and, although I still try to be good, I know I don't have to be perfect and each day is a fresh beginning!
My favourite bible verses? John 6 v 68 and 69:
Simon Peter answered him,Lord, to whom shall we go? You have the words of eternal life.
We have come to believe and to know that you are the Holy One of God.
About the author
Mary Crichton is lay chair of Swindon Deanery