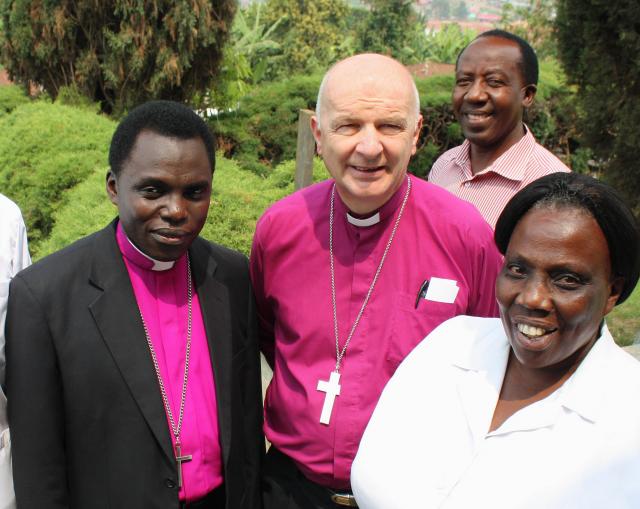 By Raymond Baguma
The world is a stage, and all men mere players, Shakespeare once said. But nobody foresaw that the Rev. Canon Patrick Kyaligonzas part in the script of life would end sooner than later.
He was due to celebrate his first anniversary as the bishop of Rwenzori on February 22. But he died in a motor accident yesterday, just 10 days before..
He was the fifth bishop in the 50-year-old diocese and was overseeing the districts of Kyenjojo, Bundibugyo and Kabarole.
Kyaligonza was consecrated only last year by Archbishop Henry Luke Orombi outside St. Johns Cathedral. In attendance were bishops from all the 33 Anglican dioceses as well as the US affiliate diocesan bishop, John Guernsey. President Museveni and the First Lady attended.
Kyaligonza took office at a time when the Church of Uganda had just declared a 10-year plan to proclaim the gospel.
Accordingly, Kyaligonzas plate was full. Key among his priorities was safeguarding the family unit against moral decay.
He spoke of the need to re-evaluate the mode of worship to address shrinking congregations by investing in the youth.
He was passionate about training the clergy and lay-leaders in fields outside theology such as agriculture and education.
Accordingly, he wanted to put church land to use. He also wanted to transform Bishop Balya Theological College into a constituent college of the Uganda Christian University in Mukono to address the increasing demand for lay workers.
He was familiar with the challenges of the diocese, having served in rural parishes, where he came face-to-face with poverty and suffering.
He highlighted the need to address the HIV challenge in Fort Portal by expanding services at Kabarole Hospital and the dioceses community health programme.
Kyaligonza was born in Rwenyana, present-day Kyenjojo district, to the late Rev. Erinard Kyaligonza and Beatrice Mary Kyaligonza.
This year, he was marking 21 years in priesthood. But his calling begun much earlier as his father introduced him to the ministry as he served in many rural parishes across the diocese.
Kyaligonza accompanied his dad on pastoral visits and sung in the church choirs.
The experience prepared the young Kyaligonza for the pulpit.
He attended primary school at Katoosa and Kisojo before joining Mpanga Secondary School in Fort Portal for Olevel.
After Olevel, he wanted to go for training in church ministry but was rejected on grounds of being too young.
He, therefore, settled for teacher training at Canon Apollo Core PTC and qualified in 1985. He taught at Nyarukoma Primary School in Kyenjojo.
Later, he joined Bishop Balya Theological College where he attained a provincial certificate in theology. He was ordained deacon in December 1989. Before becoming bishop, he had also served in different capacities as diocesan treasurer, education coordinator, diocesan secretary and dean of St. Johns Cathedral.
In February last year, his consecration brought much joy. Exactly 12 months later, at 46 years old, his death has brought just as much grief, burying the hopes of the diocese and the Anglican community.