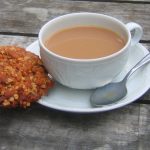 Retired clergy in the Diocese of Bristol celebrated with a special tea party. Paul Denyer, who attended the event, looks back on it:
A tea party for retired clergy might not sound the most exciting gig in town and I looked forward to it with some apprehension.
The palatial surroundings of the orangery at Tortworth Court were a bit intimidating at first but, in the event, it turned out fine and I ended up being reluctant to leave. I am pleased to report the sandwiches had their crusts removed, in the manner to which clergy are accustomed, and were served on the black slate platters which are currently de rigueur.
So what made the party swing? Well, the welcome from the diocesan senior staff was warm and inclusive. How Bishop Mike remembers our names and our spouses names I shall never know. Bishop Lee was on the button too. Archdeacon Christine, peering benignly over her glasses, showed her usual kindness and good humour. We did feel affirmed.
Bishop Mike spoke briefly about the current state of the Church of England never an easy topic- but he spoke with feeling and a spirit of yearning for good things to come. The other plus was meeting old friends and finding one or two new ones. I know 70 is the new 50 and many of us looked improved! Retirement was obviously suiting. Several felt we were better able to fulfil the calling for which we had been ordained.
I went home feeling heartened and grateful to God for the richness, variety and humanity of clergy colleagues. Theres life in the wrinklies yet!