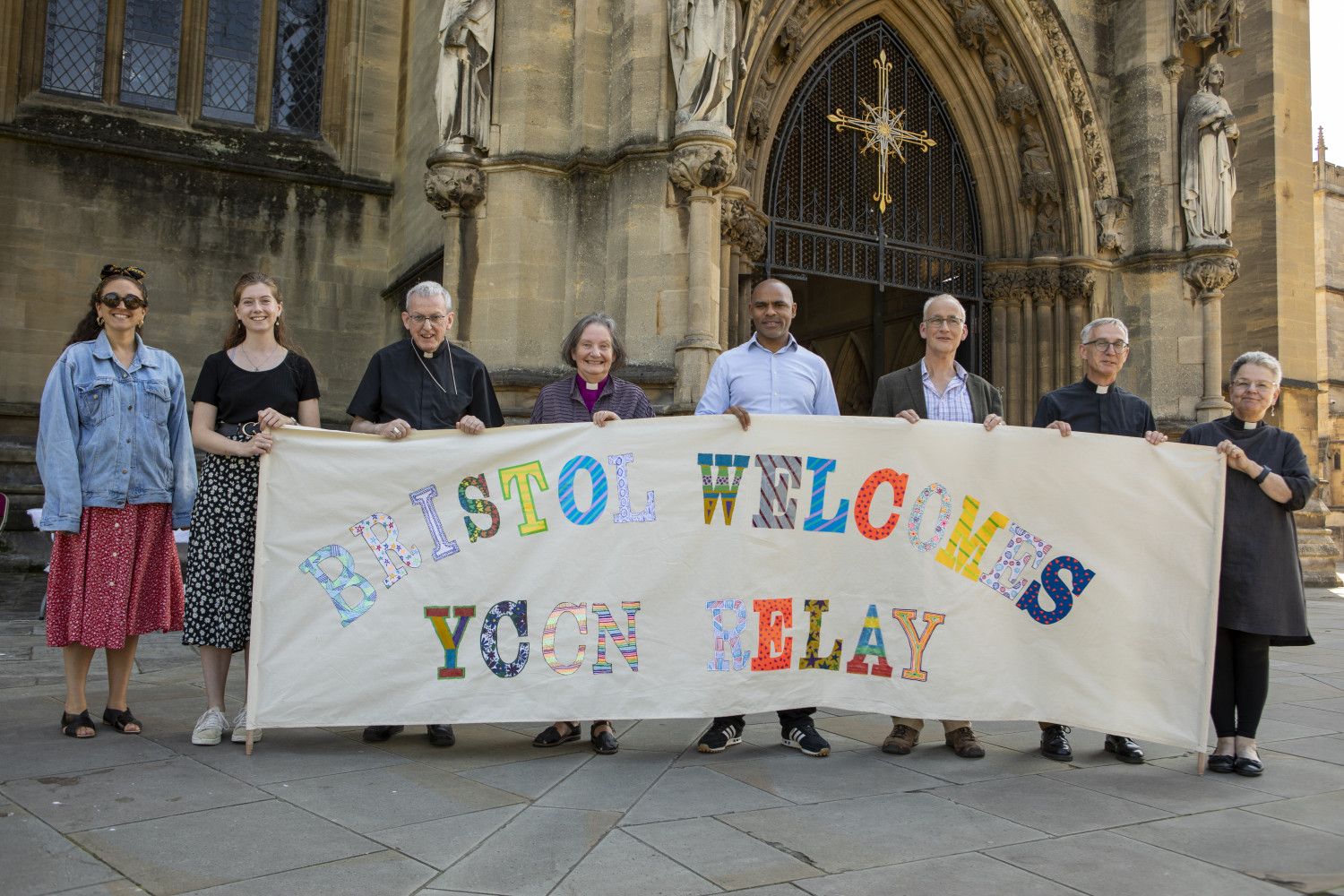 As temperatures have been rising this month, so has environmental action across the diocese. There has been much to celebrate, and there remains much to do! Read on for some encouraging stories of church activity.
Celebrating the Young Christian Climate Network (YCCN) relay to Glasgow
This year, YCCN is walking over 1,000 miles from the G7 summit in Cornwall to the COP26 climate talks in Glasgow, stopping in 10 cities to raise awareness of the need for climate action. The relay stopped in Bristol from 12–17 July. During this time the walkers were hosted by Cotham and St Paul's parish, and over the week they engaged with over 100 people to pray, reflect and act on the climate crisis. They met with school groups, created art with Hazelnut Community Farm, held workshops and prayer walks, and were celebrated at a rally on College Green. Speakers including Bishop Viv and Mayor Marvin Rees welcomed the relay and called for stronger church action on climate change. There was music from singer-songwriter and climate activist Sam Lindo, and stalls held by organisations such as Green Christian, Christian Aid, Christian Climate Action and pupils from St Mary Redcliffe and Temple school.
The whole week was full of inspiring moments, as the young walkers spoke out for justice and called on Bristolians to stand in solidarity with them.
Garden of peace
Another inspiring story this month comes from Malmesbury Abbey, who are creating a Psalm 23 garden for prayer and reflection. Following a Bible Society initiative, the group have created a labyrinth and planned six different areas of the garden to correspond to the six verses of Psalm 23. All the flowers and plants are wild or native, and both the church family and the wider community have been involved in growing wildflowers from seeds, and attending community planting days to plant out their seedlings.
The garden is being created in stages, with tree planting, arches and guided reflections based on the psalm to follow later in the year.
Food for thought
Over 450 attenders of the Sustaining Church conference this month listened to speakers from around the world reimagining how church can and should be in the context of the climate crisis. From theologians to farmers, academics to gardening monks, a wealth of perspectives was shared as we considered together how, as Christians, we can move our churches and communities into new spaces. All the sessions are freely available to view on the Hazelnut Church YouTube channel.
If you have any stories to share, please contact Clare Fussell at clare.fussell@bristoldiocese.org
Check out the full bi-monthly Environment Briefing for churches here.
Main image – Chris Dobson, second – Claire Camm.