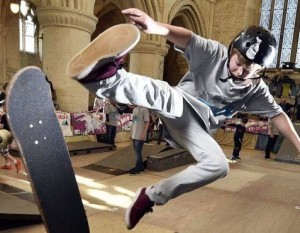 Hundreds of skateboarders headed to Malmesbury Abbey as it held its eighth annual skate festival.
The 12th century building was converted into a skate park for three days, complete with ramps and hay bales, during February half-term.
And more than 600 children and young people congregated with their boards to take part in the popular annual event, which culminated in a competition on Friday evening.
Since it began in 2009, the skate park in the Abbey has grown in popularity, becoming a regular fixture for many in the town.
It is set up and supervised by Christian Skaters UK, who partner with the Abbey for the event, with around 80 volunteers from the church helping it to run smoothly.
The Revd John Monaghan, curate at the Abbey, said: Christian Skaters turn up and build the park and supervise the skaters; we do all the other logistics.
This is the eighth year we have been running it and the momentum has grown. Its reach is far beyond the three days of the skate festival itself.
It gets the community through the doors of the Abbey, breaking down barriers with everyone in the town.
The town is massively behind what happens here. I was listening to some teens being interviewed on the radio and one said that he felt the Abbey was a safe place he could come to; that it was home away from home during half-term.
"It is amazing to see God at work in so many ways, and to see lives impacted by the Holy Spirit, as he gently calls people towards him."
You can see a video of this year's event below: