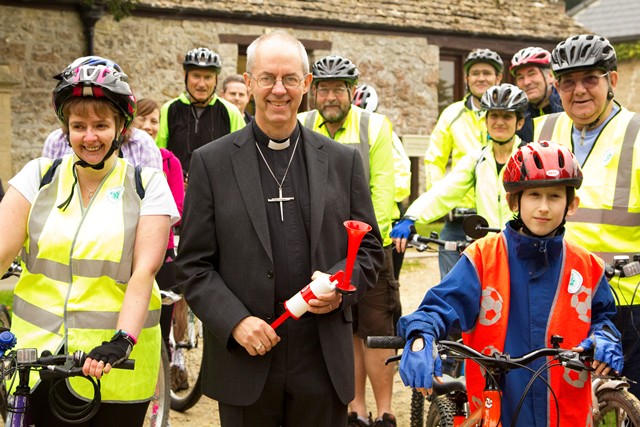 Ride+Stride is a sponsored bike ride or walk in which people all over England walk or cycle between churches, exploring and enjoying the countryside from Cornwall to Northumberland.
The money they raise helps to save historic churches, chapels and meeting houses for future generations by helping to fund urgent repairs and the installation of modern facilities. Each year the event raises over 1 million pounds to help fund urgent repairs to historic churches and chapels.
In 2019 Ride+Stride for Churches takes place on Saturday 14 September.
Churches in North Wiltshire, Chippenham and South Glos are all eligible to take part. You can get involved either by being a host church, or by organising a team to go and visit other churches.
If you want to apply to the local Historic Churches Trust, then they look at previous years involvement in Ride & Stride. Gloucestershire Historic Churches Trust are keen to point out they will accept applications from all churches, not just ones that seem historic. And they cover much of Bristol, all the way down to the Avon, so if you are north of the river, it is definitely worth considering them.
St Marys Lydiard Tregoze has been supporting Ride+Stride for many years. Over the years it has seen a large number of participants of all ages.
Wendy Deverell, who is married to Clive, Team Minister for West Swindon and Lydiard Tregoze, said: "We have a group who walk, and a group who cycle; Clive leads those who walk and I lead the cyclists.
"We had the Archbishop of Canterbury come to pray us off, when he visited the Diocese a couple of years ago.
"We also involve those who are unable to join us walking and cycling in providing refreshments and keeping the church open during the day. This benefits not only those doing Ride+Stride but also those visiting Lydiard Park. Each member of the team is valued."
Saturday 14 September is also National Heritage Open Day Weekend. People can find out which churches are open at www.explorechurches.org; you can add your church for free.
Why not plan some events to make the most of the opportunity to welcome new people to your church?