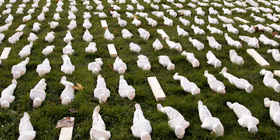 An iconic installation commemorating soldiers who fell on the first day of the Battle of the Somme has come to Bristol.
Shrouds of the Somme, which captivated millions when it was displayed in Exeter, is currently on show in College Green. After hundreds of requests to extend the exhibition, organisers of Shrouds of the Somme have brought the breathtaking display to the grounds of Bristol Cathedral where it will be on show until Friday 18 November, marking the Centenary of one of the bloodiest battles in history and remembering all 127,751 British soldiers who lost their lives.
The display was created by Somerset Artist Rob Heard who wrapped and bound each figure in a hand-stitched shroud, crossing the name of every soldier who fell on that fateful first day off a list sourced from the Commonwealth War Graves Commission. Visitors can walk around the exhibition and read the names of those who lost their lives.
The Very Revd Dr David Hoyle, Dean of Bristol, said: "The Cathedral counts it a privilege to be working in partnership with Shrouds of the Somme to bring this extraordinary installation to College Green. It is particularly powerful to bring these figures into a space so recently used by the city for vigils of remembrance.
"We hope the installation will prompt renewed reflection on events that took place a hundred years ago and on our current experience of war and terror."
Commodore Jake Moores, Chairman of the Shrouds of the Somme, said: "The exhibition was one of the most powerful Acts of Remembrance I have seen throughout my military career and subsequent time as President of the Royal British Legion for Devon. The raw emotion it produced in countless numbers of people, many of whom were in tears, some kneeling and praying and others stood rigidly to attention, was extremely moving. Without doubt this exhibition touches the hearts of all those who are privileged to witness it."
Donations from the exhibition will be donated to Forces charity SSAFA, specifically to their Bristol branch supporting servicemen, veterans and their families in the Bristol area in times of need.
The Cathedral is marking the centenary of the First World War with a remembrance project, We Have Our Lives, which remembers a fallen casualty for every month of the conflict. Exhibitions on display inside the Cathedral during this time include the online book of remembrance, Parcels of Comfort, which explores the letters and packages sent from the home to the front and an exhibition of student photography of the First World War graves in Arnos Vale.