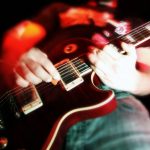 A unique service of Holy Communion is happening in Bristol the night before Halloween with Bristols first ever Metal Mass.
Aimed at people who think heavy music and Christianity cant go together, the event will be a blend of ancient and contemporary expressions of worship infused with the rich imagery and sounds of heavy metal, rock and goth.
The Right Revd Mike Hill, Bishop of Bristol, will be joining the Godly greebos as he speaks at the event, which takes place at St Michael and All Angels Church in Gloucester Road, Bristol, on Sunday 30 October.
Metal Mass is being jointly hosted by On this Rock, a Christian community in the heavy music scene, and Foundation, a Christian faith arts and justice community, both based in Bristol.
A spokesperson for On this Rock said, We know a lot of people in the music scene who have been put off Christianity by some pretty negative and judgmental attitudes towards rock and metal.
This event is trying to stand against that negative perception and be something different - we want to celebrate this awesome music as part of an act of creative worship. So whether you are bursting with faith, just clinging on, or have no sense of faith at all, youre very welcome..
Metal Mass starts at 7.30pm, with doors opening at 7pm. Entry is free. Tickets are available on the night or can be reserved in advance.
For more information visit ww.weareonthisrock.wordpress.com/metal-mass/ or follow @weareonthisrock on Twitter.