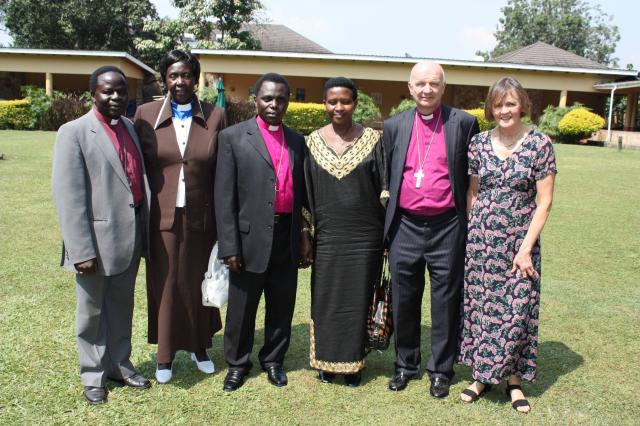 (Article reproduced from Anglican Mainstream website)
Bishop Patrick Kyaligonza was killed in a road crash this week. His wife Rose has been injured. They have three young children who were not involved in the crash. The Church of Uganda is in partnership with the Diocese of Bristol whose Bishop Michael Hill was with Bishop Patrick only a few weeks ago and who has expressed his deep shock and condolences.
The Bishop of Rwenzori Diocese Patrick Kyaligonza has died. He died in a motor accident in Kaswa along the Fort Portal Kampala High way on Thursday morning.
The Bishop was travelling with his wife, the diocesan Chaplain and driver to attend a burial of his relative in Katooke, Kyenjojo district when their car lost control and rolled several times. The Bishop passed away on spot while his wife, Rose, and the driver of the car, Mark Ahuura remain in critical condition at Fort Portal Referral Hospital.
Rt. Rev. Patrick Kyaligonza was consecrated as Bishop of Ruwenzori Diocese in February 22, 2009 at St. John's Cathedral, Fort Portal. He was just 11 days away from his first consecration anniversary. Prior to his consecration, he served as Dean of the Cathedral in Fort Portal.
His wife Rose Kabahita Mujungu sustained serious injuries. Bishop Kyaligonza is survived by the widow and three (3) children aged 9, 8 and 3 years.
Daily Monitor reporters in the area say the body has been transferred to Fort Portal Regional Referral Hospital, Buhinga for postmortem while the injured have been admitted to Kyenjojo hospital.
A statement from the Head of Communications at the Church of Uganda headquarters, Ms Amanda Onapito says burial arrangements are to be communicated later. Burial arrangements will be communicated at the earliest opportunity. We request prayers for the family of the late Bishop and the entire Diocese, said Ms Onapito.
Bishop Kyaligonza becomes the second prominent religious leader to die in an accident along the Fort Portal Kampala High way in four months. On October 26th, Rev. Fr. Albert Byaruhanga crashed to death after his vehicle lost control and crashed into a tree after he tried to avoid pedestrians crossing the road in Mubende.
Rwenzori Diocese mourns
The news of the Bishops death has spread quickly throughout the Rwenzori region with hundreds of people now converging at St. Johns Cathedral in Fort Portal to mourn the fallen Bishop. Radio stations in Fort Portal have also cancelled their daily programs and are dedicating their broadcasts to the bishop. Bishop Kyaligonzas predecessor, Bishop Benezeri Kisembo, said the death is a big shock to the diocese. He said Kyaligonza still had much to offer the people he served. This sentiment is echoed by Rev. Canon David Mwesige of St. Johns Cathedral who says the Bishop will be remembered for his heart of service to all people and his zeal for reform.