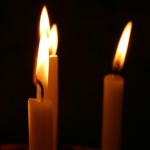 People across the Diocese have learned of the sad death of Revd Austin Thomas, who was Rector of Lyddington with Wanborough from 1980 to 1988.
Ordained in 1967, Austin Thomas served all his ministry in the Diocese of Bristol, starting his career as Curate at St Luke's in Brislington from 1967 to 1973, and then as Priest-in-Charge of St George's Bristol, St Leonard's Redfield and Team Vicar in East Bristol from 1973 to 80. He was Rector of Lyddington with Wanborough, near Swindon, from 1980-88.
Austin retired in 1988 and moved back to Bristol where he was an active member of St Mary's Fishponds.
Revd Lizzie Kesteven, Priest-in-Charge of All Saints Fishponds and St Mary's Fishponds, pays this tribute: "Austin Thomas has been a faithful and loyal member of St Mary's. His positive outlook on life and ministry has been a blessing for so many people prior to and during his retirement.
"We will not only remember him fondly but will continue to be inspired by his faith. As David Jones preached this past week, I can truly say that Austin 'testified to the light'. May he rest in peace now and for eternity with his beloved wife, Olive, who pre-deceased him."
Bishop of Bristol, the Rt Revd Mike Hill, adds his own personal condolences and gives thanks for Austin, a good and faithful servant, who both as priest and colleague served the Diocese and all his brothers and sisters in Christ, with joy, commitment and compassion.
The funeral will take place at St Mary's Fishponds at 9.30am on Tuesday 23 December.