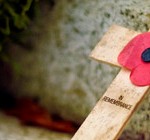 Churches around the Diocese will be marking Remembrance Sunday on 13 November 2016.
There are a number of resources available from Churches Together in Britain and Ireland to use to help commemorate the date. They include an order of service, Powerpoint presentations and the ebook of Beyond Our Tears: Resources for Times of Remembrance.
The resources are available to order or download from the CTBI website.
We Have Our Lives
Bristol Cathedral has been marking the centenary of World War One with We Have Our Lives.
The project features information about the lives of some of the men from our diocese who fought and died in the First World War.
To learn more about our project and submit your own people for us to remember, visit the cathedral website.