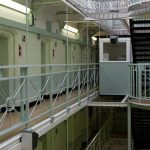 Sixty-One is coordinating an event showcasing the work of 10 local charities who work with offenders, a number of local prisons and probation.
The Chief Constable of Avon and Somerset Police, Andy Marsh, will be speaking about the importance of community in reducing reoffending, an area in which the church can potentially play a significant role.
This event offers you, and your church, the opportunity to learn about the different types of work being undertaken by some superb local organisations, including: Changing Tunes, Crisis Centre Ministries, Prodigal Arts, Emmaus and Nilaari as well as the work undertaken in local prisons.
The main part of the event will be held in a market place format, allowing people to talk to the organisations they are interested in.
A number of city leaders will also be attending, and the organisers hope that representatives from 50 churches will join them in this opportunity to become more informed about work with prisoners, and how they can become involved if they wish.
The event will be held at St Agnes, Thomas Street, St Pauls, Bristol BS2 9LL on Tuesday 7 February 2017 from 6pm to 7.30pm.
Light refreshments will be served. Please contact alison@mentormeuk.org for more information, and to let them know who will be attending.