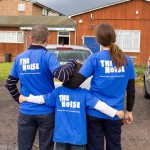 The May bank holiday weekend (3-5 May 2014) was a big one for churches in Bristol.
The Noise is all about showing God's love in practical ways. It started with a handful of volunteers in 2001 who wanted to give some practical help to a needy local area; this year, around 1,000 people pitchedin over the weekend, serving ten of Bristols most vulnerable communities.
In small teams, they dug gardens and picked litter, painted community centres, made cream teas for senior citizens, offered prayer on the streets, put on free football coaching, and ran family fun days.
The fact that so many people get involved is a powerful illustration of the difference the church can make when we work together.
Its a great way to help out in the community in practical ways," says Susie Dobson, aged 15, who volunteered last year. "Being such a big organisation makes it much easier to get involved, and it was a lot of fun doing it together in our youth group.
Esther Legg-Bagg, The Noise Coordinator, says: If we believe that God cares about these communities, then we need to demonstrate that.
In disadvantaged communities there can be a feeling that nobody cares about the area or the people who live there. It makes an impact when we spend hours weeding somebodys garden for no other reason than that we believe God loves them.