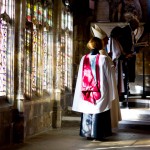 Petertide is almost upon us and with it the ordination season. Reflecting on their own calling to ministry, three of those to be ordained as deacons at Bristol Cathedral in July share their personal stories on their journey so far, and what they are looking forward to as they start their curacies.
"I dont think I was prepared for how life changing it could be. Theres a sense where I have been through a process of disorientation to become re-orientated in the direction that God planned."
Chris Beaumont "Ive always wanted to be a mum. Thats all Ive ever wanted to be. And all my life, the way Ive been led has been about caring for people, being with people, journeying with people. I thought, I can do that. I can bring these two callings together."
Susie Bishop "Vocation in any form is costly in all sorts of ways and does involve leaving things behind. Be prepared to be surprised if you genuinely open yourself up to following God's call wherever it leads."
James Harris We ask you to join us in prayer for all those from the Diocese of Bristol to be ordained this year on 4 and 5 July, embarking on the next stage of their journey into ministry. We pray that in their vocation and ministry, each may be an instrument of God's love.
To be ordained Deacon by Bishop Lee at Bristol Cathedral on Saturday 4 July 2015 at 10.30am
Christopher Beaumont to be Assistant Curate in the Conventional District of Bradley Stoke within the Benefice of Patchway
Susan Bishop to be Assistant Curate in the Benefice of Filton
Beverley Charles to be Assistant Curate in the Benefice of Yate
Richard Croft to be Assistant Curate in the Benefice of St Stephen with St James and St John the Baptist with St Michael, Bristol and the Benefice of Holy Trinity with St Andrew the Less and St Peter, Clifton
James Harris to be Assistant Curate in the Benefice of Stoke Bishop
Phillip Harrison to be Assistant Curate in the Benefice of Greater Corsham and Lacock (Letters Dimissory at Guildford Cathedral on 5th July 2015)
Lucy Nagel to be Assistant Curate in the Benefice of Redland (Letters Dimissory at Bristol Cathedral on 4th July 2015)
William Donoghue to be Assistant Curate in the Parish of Willowfield, Diocese of Down and Dromore
To be ordained Priest by Bishop Mike at Bristol Cathedral on Sunday 5 July 2015 at 10.30am
Revd Michelle Martin to be Assistant Curate in the Benefice of St Aidan with St George Bristol; the Benefice of St John Fishponds; the Benefice of St Michael Two Mile Hill and in the East Bristol Partnership
Revd Iain McColl to be Assistant Curate in the Benefice of St Peter Henleaze, Bristol
Revd Nicola Such to be Assistant Curate in the Benefice of Wroughton
Revd Linda Sullivan to be Assistant Curate in the the Malmesbury & Upper Avon Group
Revd James Walford to be Assistant Curate at Emmanuel Bristol and with Permission to Officiate in the Bristol City Deanery
Revd Vanessa Whiffin to be Assistant Curate in the Benefice of Marshfield with Cold Ashton and Tormarton with West Littleton