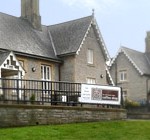 Churches are being urged to fling open their doors and invite people in to 'treasure your treasures' during the annual Heritage Open Days in September.
Treasure Your Treasures is the theme for this years annual four-day festival, which runs from Thursday 8 to Sunday 11 September, as organisers call on communities to champion their local heritage and show their support for cultural and historic assets on their doorsteps.
Visitors are encouraged to capture themselves on camera with the objects, people or places that they treasure and to share their stories online via social media using the hashtag #TreasureYourTreasures. Specially made Heritage Open Days frames will be positioned in each region at some of the free events for people to put themselves in the picture together with or in front of their treasures.
Among those taking part in this year's event is St Michael's, Stoke Gifford.
Laura Thomas, from the church, said: "Churches have an abundance of history and heritage, which many people dont get to see or hear about, so at St Michaels, Stoke Gifford were delighted to get involved in Heritage Open Days this year.
"One of our Life groups has worked together to co-ordinate St Michaels involvement. Theyve produced a leaflet for people with some fascinating information on the history of the artefacts in our lovely church.
"We see it as a fantastic chance to show the heritage we have at St Michaels, as well as pointing them in the direction of our wonderful new St Michaels Centre."
You can find out more about the work of the national festival at its website. If your church is getting involved, contact Ben Evans, Diocesan communications officer, on 0117 906 0100.