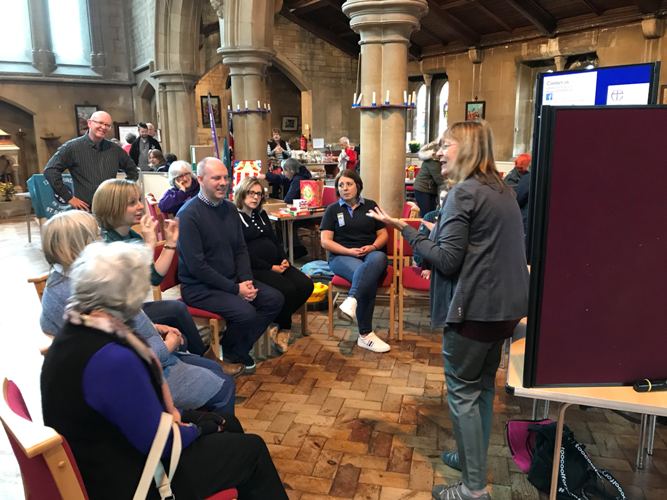 Community groups from across North Swindon were invited into St Barnabas Church as part of an open event aimed.
Crafts, cakes and a mini train ride were among the treats on offer to the public, which also saw the groups put on displays and activities in both the church and the hall.
Among those taking up the invitation to come along was North Swindon MP Justin Tomlinson.
The Messy Church team put on craft activities linked to the church's patron saint, St Barnabas. Revd Lindsay Gray also offered an opportunity for craft with a focus on recycling: using unwanted textiles to make something new out of something discarded.
St Barnabas is home to the Deaf Church, with the only British Sign Language communion service in the Swindon Deanery. Revd Gill Behenna set up a display about Deaf Church and BSL and was joined by members of our congregation who are fluent in BSL for a taster sign language session.
Also on hand was the Urban Forest team, who manage a large area of forest and meadowland around the Hreod Burna brook, close to St Barnabas, as well as a stall representing the uniformed groups: Beavers, Rainbows, Cubs, Brownies, Scouts and Guides.
Among the activity, there was also space for reflection, prayer and remembrance. Many visitors took the opportunity to light a candle and either say a prayer, or add a written prayer to the board next to the votive candle.
Passengers also had a chance to ride on the Mini Train which had been set up in the church hall.
David Robinson, who co-organised the event, said the day had brought people together and helped everyone realise just how much is happening in the community.
He said: "It was wonderful to see people of all ages and backgrounds at the St Barnabas' Open Day. There was a real energy and feeling of togetherness. There is so much going on at St Barnabas (and at our Benefice partner church All Saints), but it is not often that everyone can be in the same place at the same time."