It's scary to travel a long way from home to a strange, unfamiliar place; but God does not want His people to journey alone.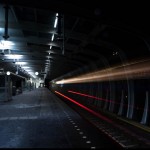 To travel is a part of life, more so than ever in the modern world. Whether, like me, you are a student going to university in a different city or a commuter travelling by train or car to work, or whether you are visiting family and friends flung across the country; travel is an issue we all face at one time or another.
It is always scary to travel a long way from home to a strange, unfamiliar place. It means leaving behind the security of the people we know and trust, as well as sometimes not knowing what the next roof over our heads will look like (as someone in university halls, I know that all too well!)
But the great news is that God does not want His people to journey alone. Even as I have left my friends and family in Chippenham, as well as my wonderful church, God has placed me in a new church, with new friends to journey with in Cambridge.
The Christmas story, as we read it in the Gospels, also has many encouraging things to say about journeying.
I am comforted by the fact that, just as the baby Jesus lived inside Mary, the living God lives inside us, and goes with us. There is nowhere on Earth that He cannot reach, and we can rely on His protection as we travel.
The young family we see in the Christmas story certainly experience that: Mary does not travel alone to Bethlehem - indeed, God specifically intervenes earlier in the story to ensure that Joseph would be with her and, later, God protects the whole family from Herod's wrath.
It is a great blessing to us that God has placed us in the body of Christ, in the church. Maybe it is also a reminder to us to protect and honour church; to look out for, and to welcome, the traveller and the newcomer; and to live life together more and more.
None of this makes travelling easy. Just as we sometimes miss the dirtiness and the coldness of the stable in our modern, clean crib scenes, so lovely songs like 'Little Donkey' can obscure the trials that Mary and Joseph must have faced on the road physical, mental and spiritual. But as I look ahead to the journeys of this Christmas season and beyond, even those which may cause me trepidation, I reflect on the fact that God goes with me, and puts people around me to carry me through. It is the greatest comfort imaginable.
About the author
Matthew Rushton is studying maths at Downing College, Cambridge; his home church is St Pauls, Chippenham.