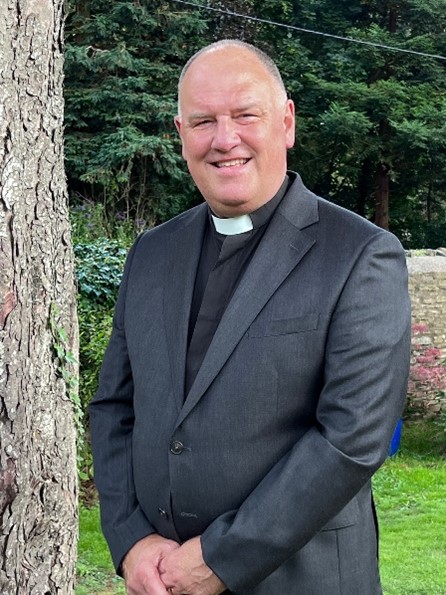 The Venerable Neil Warwick, currently Archdeacon of Bristol, is to be the next Bishop of Swindon, Downing Street has announced today.
Ven Neil has served as Archdeacon of Bristol, responsible for three populous deaneries across the vibrant and diverse city of Bristol, since 2019. He will take up his role as Bishop of Swindon in November 2023.
As part of the Bishop of Bristol's leadership team, Neil played a key role in the discernment, shaping and now implementation of Bristol Diocese's mission plan - Transforming Church Together.
Originally from Surrey, Neil read geography at Nottingham University and then worked in the transport industry and in overseas development with World Vision. Neil's time with World Vision and visits to the communities they serve, had a profound impact on his life and faith. During this time, Neil completed an MBA at Eastern University, PA, which had a focus on community development and leadership.
It was on a trip to Zambia in 2000 that the Neil first sensed God's call to priesthood. After training at Ridley Hall, Cambridge, he was ordained in 2005 at Peterborough Cathedral. He served his curacy in the market town of Towcester.
In 2009 he became the Vicar of St Nicolas Earley, a busy suburban church. He also served as Assistant Area Dean for Reading for five years.
More recently, Neil was part of the Archbishop's Racism Taskforce that produced From Lament to Action. Neil is passionate about fighting injustice.
Neil says:
"I'm delighted at the prospect of being the Bishop of Swindon, in a Diocese I love and at an exciting time in its life.
"My prayer is that I can embody the values of the Diocese - openness, creativity, generosity and bravery - as I serve the churches and communities in Swindon and North Wiltshire.
"I'm enthusiastic about supporting Swindon's churches in their God-given mission to build community, form local partnerships and be a positive presence across the town and beyond.
"Day-in-day-out I see the beautiful ways in which our churches and their people enlighten communities in the name of Christ. The 'super power' of the Church of England is its presence in every local community and that's what I love to see flourish.
"Add schools and chaplaincies as a focus, and the opportunity and reality of us being a force for Gospel change are great.
"It's also a great blessing to continue working with Bishop Viv and my superb colleagues.
"Please pray, that with the help of God, I can do all these things faithfully, with joy and give of my best."
Neil is married to Helen and has two grown-up children. He loves collecting jazz on vinyl; going to gigs; and shouting at Nottingham Forest games!
The Rt Rev Vivienne Faull, Bishop of Bristol said:
"The appointment of Neil to be Bishop of Swindon enables the whole of the Diocese to benefit from Neil's gifts as a change maker. He attracts others to the Christ he serves through his deep faithfulness, his broad sympathies and his enjoyment of the overflowing life God brings.
"I am so glad Neil will continue to be at the heart of Transforming Church. Together, and that we caught him before he was enticed elsewhere!"
The Bishop of Swindon will be consecrated by the Archbishop of Canterbury at Canterbury Cathedral on Thursday 30th November at 11am. Ven Neil succeeds the Rt Revd Dr Lee Rayfield, following his retirement earlier this year.
Hear more from Neil: